Samsung have just dropped the golden nugget of info leading us to believe we should expect a launch event for the GALAXY S III in London on May 22. We talked about this a few weeks ago, with a rumored May 22 event on London, and now it seems the event is taking form.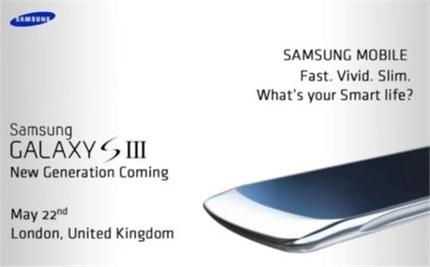 The new information comes in the form of a flyer, found on Daum by Phandroid, includes half of a device, which looks slick and slim, and the words being the most important bit here, which I'll quote:
Samsung Galaxy S III, New Generation Coming, May 22nd, London, United Kingdom
Not much else is given, but with most of rumors pointing to a May 22 event, and or launch, this seems like the real deal. I'm far too far away to attend the event, else I'd be there with bells and whistles on, and maybe even naked to get some attention from Samsung. Ok, maybe not naked, but you get my excitement factor here.