Tor traffic can now be disguised as Skype traffic to fool government censors
SkypeMorph allows users to transform Tor packets to match Skype conversation packets avoiding detect.
Published Apr 3, 2012 6:37 PM CDT
|
Updated Tue, Nov 3 2020 12:29 PM CST
1 minute & 8 seconds read time
Tor is a popular program which enables people behind heavy government censorship to view the entire unobstructed internet. It's basically a proxy server which encrypts the outgoing packets so that they can't be snooped on. Unfortunately, these data packets can still be identified so the traffic can theoretically still be blocked.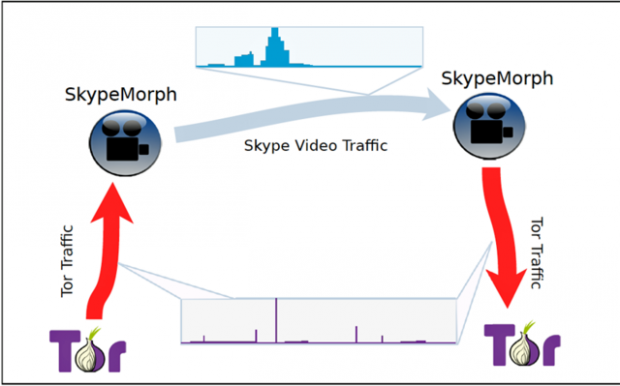 Computer scientists have now come up with a way to mask these data packets as Skype traffic. This makes it near impossible for the government to block the data packets. If a government were to block Skype, there would be a massive outcry from other governments and the citizens themselves.
"The goal is to make the traffic look like some other protocol that they are not willing to block," Ian Goldberg, a professor at the Cheriton School of Computer Science at the University of Waterloo, told Ars. "They could just shut off the Internet, of course, like Egypt did for a few days a year or so ago, but that, of course, would be extremely unpopular to their own people that are wondering why can't see pictures of cute cats."
SkypeMorph, as the application is called, uses traffic shaping to convert Tor packets into User Datagram Protocol packets to avoid detection. The traffic shaping also mimics the sizes and timings of packets produced by normal Skype video conversations to further mask the connection from suspicion.
"It's not enough just to send encrypted packets to a particular port, Goldberg explained. "You want to send them in patterns and sequences and sizes and distributions that look as realistic as possible. What our system does is go a step beyond traffic morphing and not only matches the packet size distributions but also matches the timing distributions."
Related Tags