A new study from Canaccord Genuity is claiming that Apple and Samsung account for a combined 95-percent of all handset profits in Q4 2011. Apple accounts for 80-percent of profits, while the company behind the GALAXY range of handsets, Samsung, takes 15-percent. The remaining 5-percent is left to all of the other manufacturers.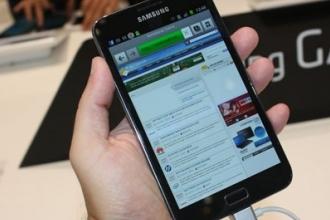 This leave companies such as Research in Motion (RIM), HTC and Nokia with just 5-percent of the profits, considering they were at once time all top dogs of the market, this is a big change and I'm sure it's hard to swallow for these companies. CNET reports that Apple's iPhone is outselling all other phones combined at AT&T and Sprint, and with Verizon Wireless they are even with all Android phones available.
Samsung has seen incredible success with their GALAXY S range of phones, with the GALAXY S II selling 20 million units in 2011. The GALAXY S III is the most anticipated phone ahead of its official announcement, and Samsung's GALAXY Note has been selling quite well, even if it is half way between a tablet and smartphone. I'm predicting this market share will change with HTC dishing out their One series, and the GALAXY S III should be Samsung's home run this year.