Highlight Hunter locates your best clips and cuts down editing time by 80%
Highlight Hunter cuts videos down to highlights. Shortens editing time by 80%
Published Mon, Apr 2 2012 6:37 PM CDT
|
Updated Tue, Nov 3 2020 12:29 PM CST
Video cameras are everywhere! From the smallest cell phone all the way up to the professional camera, more and more people are taking video. But wading through hours upon hours of video is both a boring and time consuming task. Enter Highlight Hunter. This free piece of software was created by Noah Spitzer-Williams and team cuts down editing time by up to 80 percent.

Noah spent 5 years at Microsoft at different posts and finally decided to start his company. The way the software works is like this. As one records an adventure, game, or the like, a user simply covers the lens for one second after a highlight to bookmark it. One then downloads the data onto a Mac or PC and uses the free app. It takes a couple of minutes and pulls together all of the highlights that were bookmarked.
The software is compatible with most video cameras and data files. You can choose how much time to record before the highlight bookmark in the settings. The app can take hours of video and cut it down to the highlights in an average of 3 to 4 minutes according to Spitzer-Williams. The team has plans to integrate with video editing software, but they aren't there yet.
There is a free version which adds a small watermark onto the video, or you can purchase a premium version for $29/year and receive premium support as well as no watermark. It's likely that the software will find its way into popular editing software very soon.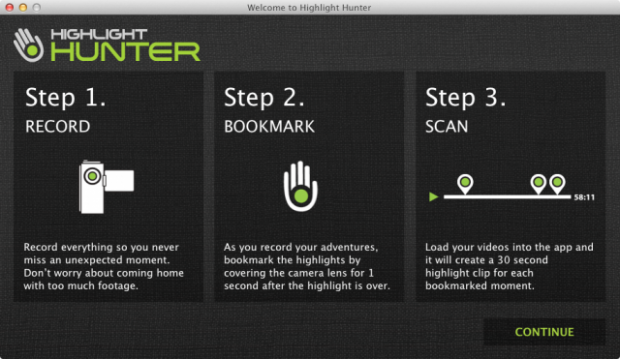 Related Tags