NVIDIA's Tegra 4 to be more than meets the eye, should sport GPGPU support
NVIDIA's next-gen Tegra 4 might sport GPGPU support, will help CUDA, OpenCL and more.

Published Sun, Apr 1 2012 7:25 PM CDT
|
Updated Tue, Nov 3 2020 12:29 PM CST
Details are leaking for NVIDIA's next-generation Tegra, which for now is called Tegra 4. Tegra 4 is built on a 28nm process, and according to VR-Zone's tipsters, should bring with it GPGPU support to use its graphics core for boosting CUDA, OpenCL and other general-purpose tasks.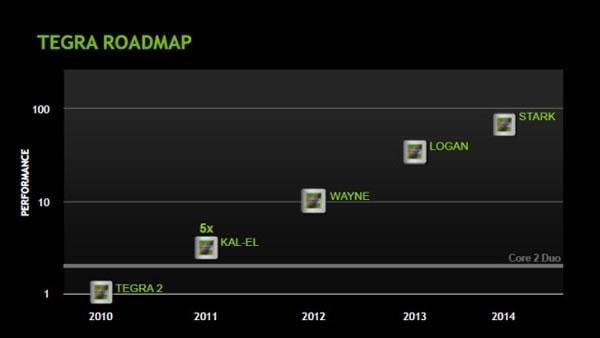 The addition would push it a few notches up the road, as it would sport a graphics core that is multiple generations newer than what is in the Tegra 3, which dates back to the 2006-era PlayStation 3. What's being thrown around as a rumor right now is that NVIDIA could opt to use the current-generation Kepler core in Tegra 4.
NVIDIA CEO Jen-Hsun Huang has already teased that Kepler would arrive in smartphones, but he didn't state whether this would be sooner rather than later. If NVIDIA's trend continued, we won't see Kepler-based cores in Tegra for years, as the current Tegra 3 only sports NV40-class cores. There are more speculative rumors, though.
It's probably that NVIDIA could opt to use the ARM Cortex-A15 for four main cores, with 32 or 64 graphics cores. Most other companies, including Apple, are expected to go head first into the quad-core A15s, but not slap any significant graphical improvement on their chips. NVIDIA on the other hand, being a graphics company and all, are obviously keen to continue their trend of kick-arse graphics in mobile solutions.
Ultrabooks and other markets that are sure to be created because of Windows 8 will surely benefit of this new technology, and it has be excited once again for technology.
Related Tags