Google have just pushed out Google Maps for Android 6.5, and with it, brings a few new features for Ice Cream Sandwich-powered devices, as well as some stats which should raise eyebrows on some people.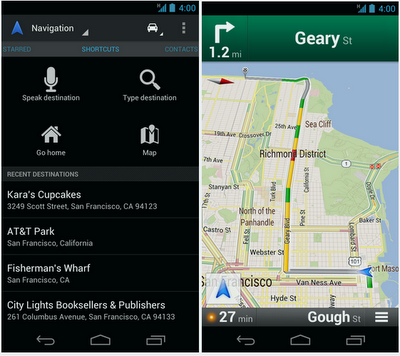 Google Maps for Android has guided people through more than 50 billion kilometers of turn-by-turn directions, which is the equivalent to 130,000 trips to the moon, 334 trips to the sun, 10 trips to Neptune, or 0.005 light years. Absolutely mind-blowing when its put that way, really.
Google Maps 6.5 for Android sports a redesigned Navigation home screen for Android 4.0+, which makes it easier to enter a new destination or select from recent and favorite locations by swiping left or right (as seen in the picture above). If your smartphone sports a high pixel density screen, such as the GALAXY Nexus, GALAXY S II, Droid Razr, and others, you'll now be greeted with higher resolution map tiles that take better advantage of the pixels-per-inch on your screen.
The result of this is a crisper, less cluttered map that is easier to read. Google Maps 6.5 for Android also lets you choose to prioritize a particular transit route (such as the bus, or subway) and route option (like taking the recommended route, one with fewer transfers or one with less walking). If you need to just get somewhere quick, or want to avoid the risk of a missed connection, or you just don't want to walk too far, you can get the transit directions that best suit you.