Evernote for Android gets updated, now includes speech-to-text and custom widgets
Evernote for Android has been updated, now sports speech-to-text as well as custom widgets.

Published Thu, Mar 29 2012 9:23 PM CDT
|
Updated Wed, Mar 10 2021 1:19 PM CST
Note-taking super-app Evernote, has been updated for Android and now includes a few new features that might either entice you to try it, or excite you to update it. First up we have the integrated speech-to-text transcription to sit side-by-side Evernote's already-in-place audio notes feature.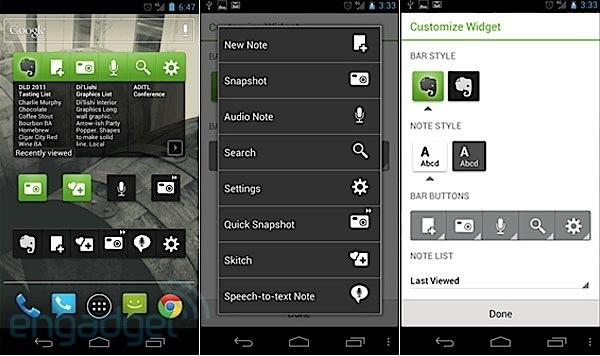 The original audio is attached to each note, and the new tool can be disabled for sound-only reminders. This feature is OS specific though, where it's limited to Android 4.0 technology and "certain other devices", so be careful with that one.
The standard widgets have also received a new splash of paint, where an update to the Evernote Widget is now in play. The updated widget allows you to customize color, buttons and exactly which notes appear in the large widget. We also have a single function widget which sits on the home screen like the regular app does. And lastly, we have Quick Snapshot, which lets you take fast captures that are added to your account and automatically titled.
You can download Evernote for Android from Google Play on your device, or here.
Related Tags