Amazon CEO leading the attempt to recover Apollo 11 rocket engines from ocean
Amazon's CEO is spearheading effort to recover the Saturn V rocket engines that are in the Atlantic.
Published Thu, Mar 29 2012 12:30 PM CDT
|
Updated Tue, Nov 3 2020 12:29 PM CST
The Saturn V rocket is, in my opinion, the most beautiful space craft ever built. Oh, it's also the most powerful man-made vehicle ever built. On it's launch for the Apollo 11 mission, several of the engines fell into the Atlantic ocean and now the CEO of Amazon wants to recover them.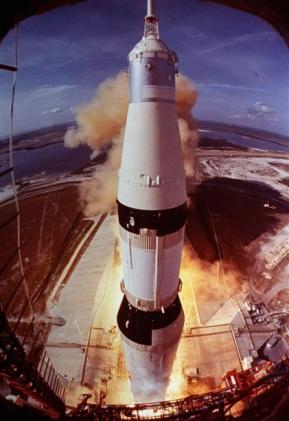 It's not clear how Mr. Bezos knows that these are indeed the engines from the Apollo 11 space mission, but any sort of artifact recovery is certainly very cool. "We don't know yet what condition these engines might be in," he wrote. "They hit the ocean at high velocity and have been in salt water for more than 40 years. On the other hand, they're made of tough stuff, so we'll see."
The objects are property of NASA, and NASA has not yet been contacted regarding this. "There has always been great interest in artifacts from the early days of space exploration and his announcement only adds to the enthusiasm of those interested in NASA's history," NASA spokesman Bob Jacobs said in a statement.
The bottom of the ocean is littered with engines and other parts of space craft that fall off after lift off. So, while they may not be from the Saturn V Apollo 11 mission, they most likely are from space mission.
Related Tags