Ivy Bridge CPUs launching on April 29, mostly desktop chips with a few mobile chips thrown in
April 29th could see the release of Intel's Ivy Bridge processors.

Published Thu, Mar 29 2012 4:26 AM CDT
|
Updated Tue, Nov 3 2020 12:29 PM CST
After a couple of delays, it looks like Intel is on track to deliver one side of the Ivy Bridge coin on April 29 according to two different sources, Sweclockers and Donanimhaber. Both desktop and mobile IBs will be released at the same time if these reports are correct.
Just over a week from now on April 8, Intel will announce Z77, Z75, H77 and B75 chipsets. On the same day, we should see a slew of reviews for Z75- and Z77-based boards, sporting Sandy Bridge-based CPUs. Ivy Bridge processors are expected to take the stage in the fourth week of April, somewhere between April 22 and April 28.
The announcement will only include quad-core models, Core i7 and Core i7 Extreme families, desktop Core i7, Core i5-3570K, i5-3570T, i5-3550, i5-3550S, i5-3450 and i5-3450S. The chips that get announced should be made available for sales on April 29, with benchmarks and reviews hitting the same day. Specifications and pricing on said processors is below:

On June 3, we should get the second side of the Ivy Bridge coin with the following chips: Core i5-3570, i5-3570S, i5-3475S, i5-3470, i5-3470S and i5-3470T desktop CPUs, and Core i5 dual-core mobile microprocessors. Below is a full list of third-generation Core-branded processors: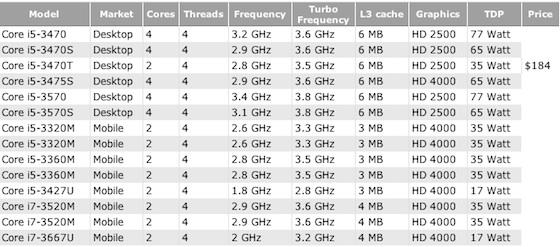 Related Tags