Anonymous at it again, this time threaten Operation: BLACKOUT, where they'll take the Internet down on March 31
Anonymous and Operation: BLACKOUT - threatening to take the Internet down on March 31st.

Published Thu, Mar 29 2012 3:23 AM CDT
|
Updated Tue, Nov 3 2020 12:29 PM CST
Collective hacking group Anonymous are at it again, this time threatening more than just SOPA, PIPA or Facebook. This time they're threatening to take down the entire Internet. This is said to be as a protest to SOPA, Wall Street, the world's irresponsible leaders, and the beloved bankers who are starving the world for their own selfish needs out of sheer sadistic fun.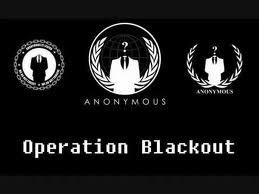 While I agree with most of those points, why threaten if you can't go through with it? I shouldn't laugh, but I'd cry if the Internet went down on March 31st. So, Anonymous are now saying they "will shut the Internet down" on March 31st. They go into detail, where "in order to shut the Internet down, one thing is to be done. Down the 13 root DNS servers of the Internet, those servers are as follows:"
A 198.41.0.4
B 192.228.79.201
C 192.33.4.12
D 128.8.10.90
E 192.203.230.10
F 192.5.5.241
G 192.112.36.4
H 128.63.2.53
I 192.36.148.17
J 192.58.128.30
K 193.0.14.129
L 199.7.83.42
M 202.12.27.33
Anonymous state that by cutting the above DNS servers from the Internet, nobody will be able to perform a domain name look-up, which would effectively disable the HTTP Internet, which is the most widely used function of the Web itself. If someone was to enter in "https://www.google.com", or ANY other URL, it will result in an error page, thinking that their service, or the Internet is down, which it kinda is.
The Internet isn't completely down, per se, but without those DNS servers, it would be completely chaotic. Anonymous reiterate that this is just "a protest", and they are not trying to "kill" the Internet, they are simply temporarily shutting it down "where it hurts the most". March 31st isn't long away, people.
Let's see if this is another fizzler.
Related Tags