Apple get sued by Australian consumer watchdog, ACCC, says 4G iPad is misleading in Australia
Australian Competition and Consumer Commission accuses Apple of misleading new iPad customers with t.

Published Wed, Mar 28 2012 3:17 AM CDT
|
Updated Tue, Nov 3 2020 12:29 PM CST
In the words of Nelson from The Simpsons - "HA HA". What a great start to this news, as much as I love Apple (I'm rocking along with the new iPad and I've been loving it so far, there are issues, but it's overall a nice product) the 4G iPad is a huge misleading mess in Australia. When I went down to grab mine, you could see 4G signs and talk of it around the store, and it's just simply pathetic.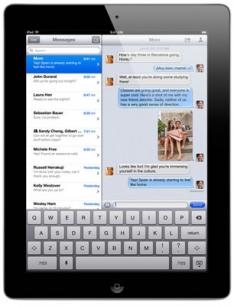 Apple are now finding themselves in a pickle in Australia, where Australian consumer watchdog, the Australian Competition and Consumer Commission has accused Apple of misleadingly calling its new iPad as 4G-capable. The ACCC have said they will be applying to the Federal Court of Melbourne for an order against the company and is moving for the court to impose fines and injunctions against sales.
The ACCC is saying that labelling the new iPad as 4G-capable is misleading to customers in Australia. Yes, 4G LTE networks are available here in Australia, but they run on an entirely different band to what the iPad is compatible with. 4G services in Australia provided by Telstra run on the 1800MHz frequency band, which makes them completely unusable on the new iPad. The new iPad only works on the 700MHz or 2100MHz frequency bands for its 4G LTE connectivity.
The ACCC has stated:
Consumers who have purchased or are considering purchasing an iPad with WiFi + 4G should ensure that they have a proper understanding of the mobile data networks which this iPad can directly access.
The Apple Store in Australia lists the iPad with the same product naming convention as its other stores across the world, but has chosen to explain the differences in a really confusing way, where it displays the info underneath the Wi-Fi + 4G pricing. It says:
The iPad with Wi-Fi + 4G model can roam worldwide on fast GSM/UMTS networks, including HSPA, HSPA+, and DC-HSDPA. When you travel internationally, you can use a micro-SIM card from a local carrier. You can also connect to the 4G LTE networks of AT&T in the U.S. and Bell, Rogers, and Telus in Canada.
And for the real laughable bit, is the small print at the bottom of the product page which reads:
4G coverage is not available in all areas and varies by carrier. Please see your carrier for details.
Definitely not good for Apple in Australia, that's for sure.
Related Tags