LG will ship their first ultra-thin OLED TV in May, will start from $7,928
$7,928 - the cost of LG's first 55-inch OLED TV.

Published Tue, Mar 27 2012 8:11 PM CDT
|
Updated Tue, Nov 3 2020 12:29 PM CST
It looks as though May will be the month that LG launch their ultra-thin 55-inch OLED TV, if everything goes to plan. The awesomely thin OLED TV will have an asking price of $7,928.91. Not bad, I guess. We should expect the TV to be the same that LG showed off at CES recently, which means it will be less than 0.5cm thick, and under 17 pounds in weight, as well as sporting 3D tech.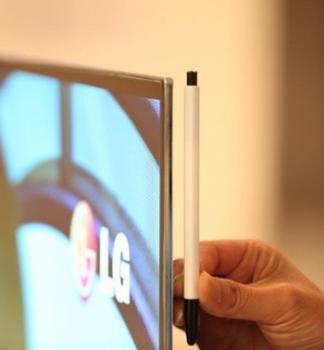 LG have also teased of "futuristic features", where I bet you've just rolled your eyes, but they might actually work quite well, hopefully: 3D motion and voice gesture controls. Yep, thats it. Hopefully they're not laggy and buggy, but personally, I think first-generation OLED TVs are going to have great picture quality, but the separate "exclusive" features that the companies throw on them won't work too well, but, time will tell and there's only 8 or so weeks left to find out.
OLED should be quite the breakthrough in not only picture quality, but response times. Typically, LCDs have a response time slower than 20ms, where OLED smashes this with response times of less than 0.01ms. You know what? I'm excited. I really am. I'm after a new TV this year, and I really want to get an OLED. Price doesn't bother me, as there's a corner that I can sell my body at.
Related Tags