A very lucky Chinese woman has just won Apple's contest to be the downloader of the 25th billionth (!!!) app from the App Store. The lucky woman, Fu Chunli from Qingdao won the contest by downloading the free version of Disney's 'Where's My Water?'. In return, Apple rewarded her with an iTunes gift card worth $10,000 USD.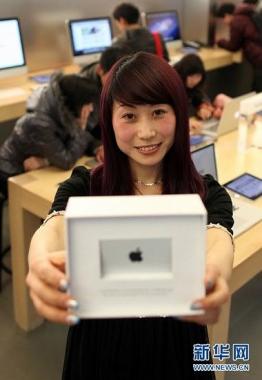 Apple also invited Fu to the Beijing store to collect her prize. Once she arrived, she was met by journalists and photographers, and was given a tour of the store as well as a demonstration of Apple products by the staff. Fu wasn't very familiar with most Apple products, as she only purchased herself an iPhone just a month before winning the $10k prize.
Fu was still learning the basics of the App Store, and was completely unaware of the competition until she was contacted by Apple, at first, she thought it was a hoax, until it began to sink in. The Chinese media have dubbed Fu the "Apple Girl" from China, as she is the first Chinese resident to have won an Apple contest.
Apple have previously given out $10,000 iTunes gift cards, but have not promoted it anywhere near this level before. The reason behind it is it was a Chinese citizen who won it, and China is a market Apple want to really concentrate on in the future, where sales have more than doubled in 2011 alone. Apple now make 16-percent of their revenues from China. Coincidence? I think not.
Congratulations to Fu for her prize! Wow, $10,000 to spend on iTunes... crazy!