Digital Storm announces their Aventum PC, redefining the definition of custom high-performance PCs
Digital Storm's new custom-built, high-performance PC, Aventum - ready to blow you away.

Published Mon, Mar 26 2012 11:21 PM CDT
|
Updated Tue, Nov 3 2020 12:29 PM CST
Last week, I had the pleasure of being involved in a conference call with Digital Storm, and their chief marketing officer Harjit Chana where I found out some delicious news on their new custom high-performance PC, the Aventum.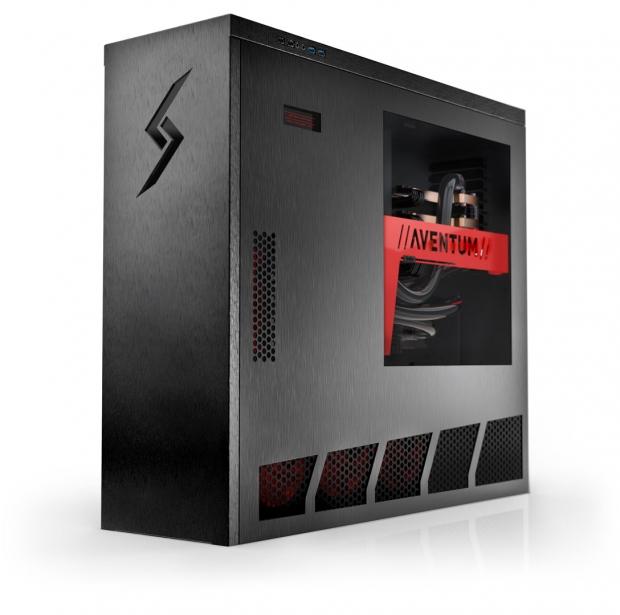 Aventum is a high-performance PC gamers wet dream, literally, its liquid cooled, so that wasn't a joke. The Aventum is a built-from-the-ground-up beast of a machine, where everything seems to have gotten the same insane amount of love done to it. From the new custom chassis, the design itself, exhaust chambers, right down to the software that can control various parts of the machine, the Aventum truly is a machine of kings.
Digital Storm have spent considerable amounts of time ensuring this machine is enthusiast-ready, where they even used thermal imaging cameras to make 3D models of the machine, making sure that heat dissipation was perfect. The Aventum sports something quite unique: the Cryo-TEC cooling system.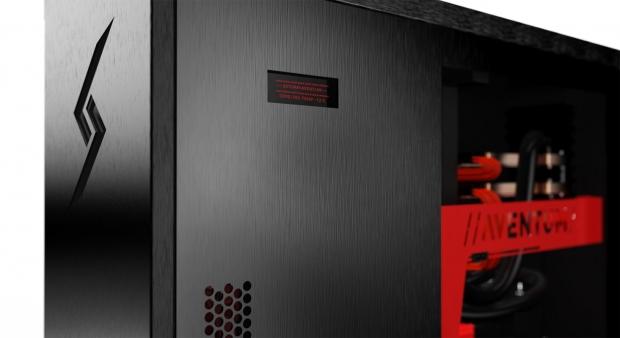 Cryo-TEC was designed by the Digital Storm engineers from the inside out, where it sports a proprietary thermal exhaust chamber, with intelligent 5 thermal zone regulation and exclusive Aventum software. The software itself is a huge point in this system, as it can control the 13 customizable fans to control heat in certain areas of the Aventum. On top of this, the Cryo-TEC liquid cooling system chills liquid to below 0-degrees celcius, a major achievement for the team at Digital Storm, and a huge point for anyone looking to get one of these bad boys.
I mentioned before that the Aventum had been built from the ground up, but the team at Digital Storm went a step further. Every compartment, every bay, every single fan, cooling system right down to the circuit board for the control module, has been specifically built for this machine. This in itself is an amazing achievement, and shows Digital Storm's eye for detail, and perfection.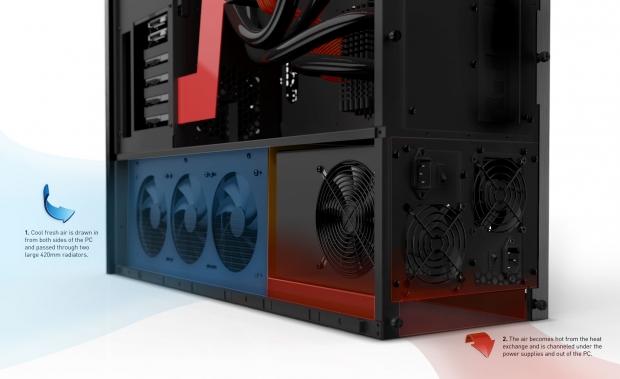 The custom exhaust chamber is special, where it sports 3 x 420mm (!!!) radiators, where hot air is tunnelled through the rear exhaust vent. This ensures that it's contained, and the hot air doesn't then recirculate through the system heating up other components. Digital Storm really stepped up here, they wanted to make sure that all of the hot air from the radiator escapes through the exhaust chamber, which is a really great feature. This isn't something you do overnight, this is something that comes with meticulous planning and enthusiasm, oh and very smart engineeers.
There are five thermal zones, with temperature probes in those areas: GPU, CPU, HDDs, radiator (in-take), and exhaust vents. The fans in these various areas can be controlled by Digital Storm's exclusive Aventum software, that can control the insane amount of fans: 13 of them to be precise. At first, I was thinking "yeah, so what? you can control the fans..." but then it was explained to me.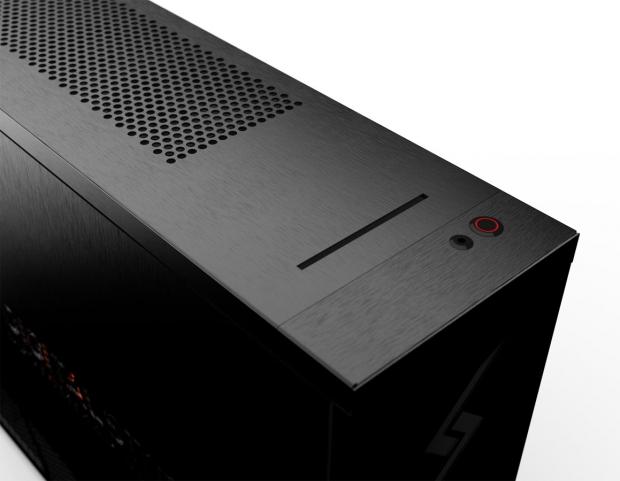 So, think of the system playing high-end next-gen games such as Battlefield 3, or Skyrim on multi-monitors. More than one GPU is pumping away at 100-percent usage, and your system (normally) would start ramping up the fans on the actual hardware, and not the chassis fans. In steps the Aventum.
Aventum is capable of monitoring these fans through its exclusive software, where you can monitor, and regulate the fans, completely personalizing the system yourself. It doesn't stop there though, you can also personalize the chassis fan color! Whaaaat! So cool. It's the little things, you know?
On top of the personlization of the chassis fan speed, color, you can also sit pretty knowing there's an integrated display module. This little LCD displays itself on the side of your machine in a rectangular slot, where it shows off system information, and personalized system specs. It doesn't get any cooler than this, folks!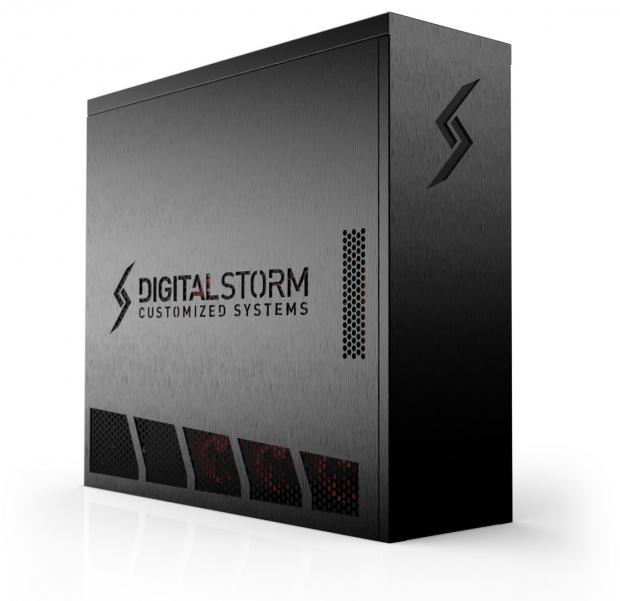 Lastly, the system configuration can be quite insane. It starts off 'Level 1' at $3859 and sports an Intel Core i7 2700K, 16GB of RAM, an EVGA GEFORCE GTX 680, 120GB SSD, 1TB Storage drive, and a 1050W Corsair Pro Silver PSU. If you want to go insane crazy on specs, you could opt for the 'Level 3' Core i7 3960X model, 16GB of 2133MHz Corsair Dominator GT RAM, 3-way EVGA GEFORCE GTX 680 GPUs, the same storage options, and a 1500W Silverstone PSU, this bad boy will set you back $6,687.
The only thing that I hate? Is that I don't have one. I really need a new gaming machine and I've never had a pre-built machine. But this new Aventum system kicks some serious ass, and I think I'll take a Level 3, please.
Also, I'd like to take a minute from this to say how enthusiastic and "real" Harjit felt. It didn't feel like I was just being involved in some pre-spin marketing BS, you can tell Digital Storm have love for not only the products they're creating, but their customers. They listen, they learn, they adapt.
The Digital Storm Aventum system is available... NOW, and starts at $3859.
Related Tags