DriverTT: NVIDIA release new GeForce 301.10 WHQL driver, designed for the GTX 680 and includes some truly kick-arse features
NVIDIA release new driver, GeForce 301.10 WHQL, supports GTX 680 and has a bunch of awesome features.

Published Fri, Mar 23 2012 5:09 AM CDT
|
Updated Tue, Nov 3 2020 12:29 PM CST
NVIDIA released their latest Kepler-based GEFORCE GTX 680 only hours ago now, with TweakTown super star and VGA Editor, Shane Baxtor being the first in the world to release a review on the new card. I heard NVIDIA weren't really mad and started making blue-colored cocktails to match the TweakTown colors, in celebration that they knew it really amplified the buzz for the card (kidding).
Anyway, NVIDIA have released the new GeForce 301.10 WHQL-certified drivers designed for use with the newly-released GEFORCE GTX 680 GPU. The new driver throws in some new features, and enhancements, but are are GTX 680-exclusive.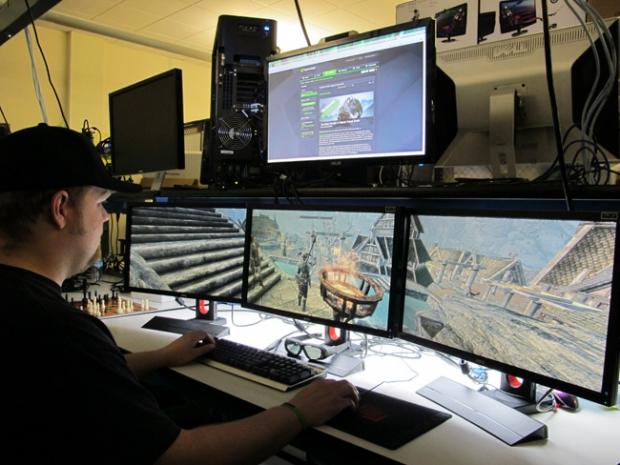 I'll skim over some of the new features, and let you read the rest at the source. First up we have NVIDIA Control Panel FXAA, which is a high-speed, shader-based anti-aliasing technique that can be enabled directly through the NVIDIA control panel. Called FXAA, this new technique is up to 60-percent faster than 4xMSAA, and can produce results equal to MSAA at minimum, and in some cases, provide better-than MSAA quality.
Another stand-out feature is the three monitor surround plus accessory display. The GEFORCE GTX 680 cards sport four monitor connectors, where you can use a 3D (or non-3D) Vision Surround setup, with the fourth monitor connected NVIDIA use this as an "Accessory Display". Very cool new feature.
Also included is "Central Display Acceleration", where SLI users were forced to disable Surround if they were playing a non-Surround game. With the 301.10 WHQL drivers, this has been resolved. Now users can run any game on the center screen at full speed, with the provision that the center screen itself is connected to the GPU that is powering the two monitors. This feature is enabled automatically.
The last feature I'll tease you with is "NVIDIA Frame Rate Target", where third-parties can now integrate NVIDIA Frame Rate Target into their applications. What this new feature does is dynamically overclock and underclock a GPU to hit a specific, user-defined frame rate. Very, VERY cool.
If you want to read more on the new features and enhancements, check out NVIDIA's latest article.
Related Tags