RumorTT: Samsung's GT-i9300 photo leaks, could be the GALAXY S III, but is probably the GALAXY S II Advance
RumorTT: Samsung GT-i9300 pics leak, doesn't quite look like the GALAXY S III, but it could be the G.

Published Fri, Mar 23 2012 4:24 AM CDT
|
Updated Tue, Nov 3 2020 12:29 PM CST
I'm getting to boiling point over these Samsung leaks, I really wish Samsung would just turn up at my house for an interview, GALAXY S III in hand (a few of them) and say "have at it". But, for now, we'll rely on leaks. PhoneArena is reporting they've just received a photo claiming to be the Samsung GT-i9300.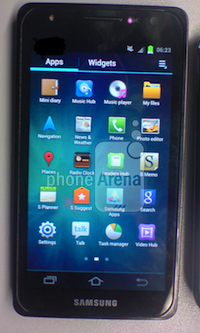 It sports the usual Android 4.0.3 Ice Cream Sandwich UI, but right now, we don't know what phone this is, or what it could even be. Considering the GALAXY S II is the GT-i9100, the GALAXY Nexus is the GT-i9250, the GT-i9300 should slot right into the GALAXY S III spot, but does it?
It definitely looks like a GALAXY S handset, sans buttons, which is an ICS-based thing, really. So we should expect the leak to be right with the UI and look of the device itself. We see TouchWiz-sporting ICS with Samsung's Music and Video Hubs, the S Memo, S Planner, and S Suggest apps. The screen looks to be between 4.6- and 4.7-inch, too. But there's nothing to compare it against, so this is just a "it looks like", and not "it is" statement.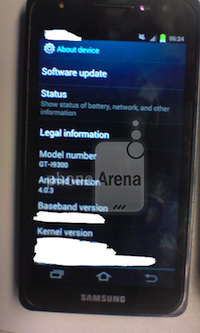 The biggest notable change is the Samsung logo which has been moved from the top of the handset, to the bottom. This is a strange move in my opinion. The second thing that makes me doubt this is the GALAXY S III, is that the screen definitely isn't edge-to-edge, which is what the previous rumors of the GALAXY S III have pointed to.
This could just be the GALAXY S II Advance, which is expected to drop in the near-future.
Related Tags