Windows 8 will be quad-XGA-ready, supports 11.6-inch screens with resolutions of 2560x1440
Windows 8 will have support for 2560x1440 on tablets, even at 11.6-inch.

Published Fri, Mar 23 2012 4:09 AM CDT
|
Updated Tue, Nov 3 2020 12:29 PM CST
The new iPad's screen does look pretty, but most non-tech savvy users most likely thought that before Apple released the 2048x1536-powered Retina Display on the new iPad, that Full HD was as high as screen resolutions went, but they would be very, very wrong. 30-inch screens have maxed out (for consumers) at 2560x1600, and they are beautiful.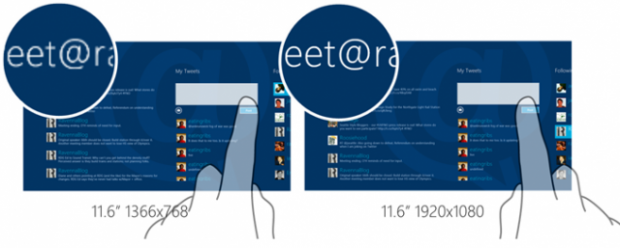 Microsoft knows the new tablets, and more importantly, Windows 8, needs to usher in something to combat against the unstoppable iPad. Enter, resolutions and pixel-dense displays. The Building Windows 8 blog has covered it quite well, where Microsoft have identified a sort of "Goldilocks Zone" for three general classes of resolutions: standard, HD, and quad-XGA. Within this zone, text and UI elements aren't blown up to stupid-looking proportions, nor are they shrunk down to something so small its hard to touch.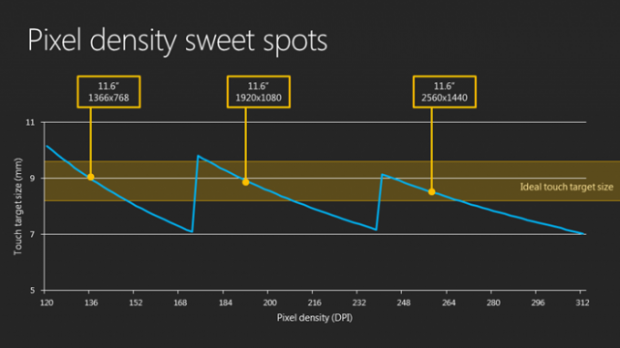 In the first case, buttons and text will be shown without scaling. In the second, they'll be at 140-percent normal size, and in the third, 180-percent of normal size. The author of the most on Building Windows 8, Microsoft US team member David Washington, admits that high-density screens will make many familiar UI elements such as pulldown menus and small close boxes, "increasingly burdensome". Metro should hopefully solve this.
Related Tags