Did the Mexican Government know there was going to be a big earthquake on March 20th?
Mexican government prepares for 7.9M earthquake drill on March 20th, 3 minutes later it actually hap.

Published Thu, Mar 22 2012 12:19 AM CDT
|
Updated Tue, Nov 3 2020 12:29 PM CST
It was only a few days ago now that I posted that I expected a sizeable earthquake to happen on March 22, and within 48 hours of this date, a 7.9-magnitude (downgraded to 7.4) an earthquake hit Oaxaca, Mexico. Right now you're thinking, well, that's weird... but that's not even the interesting part.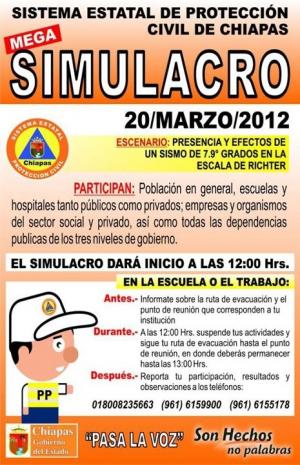 The interesting part is that the government of the state of Chiapas, had actually prepared for a massive drill of a 7.9-magnitude earthquake, for 12:00 of that day. Just 180 seconds later, an actual, real, 7.9-magnitude earthquake hit. Luckily, as far as reports go now, there have been no casualties, but what is that for a coincidence? Could we even call it a coincidence? The government of the state of Chiapas, had massively prepared for this drill, which was reportedly a reason to test the response capability of the State System of Civil Protection and General Population in the even of a large-scale disturbing phenomenon.
Then we have the El Heraldo, which reported the following on March 2nd, 2012:
As part of preparations for the next megasimulacro March 20, state authorities of Civil Protection (CP) performed exercise tests before a cabinet to simulate the response to a contingency situation, an earthquake measuring 7.9 degrees on the scale Richter.
Really? The chances of this would have to be 1 in a few trillion, surely? To state, weeks from the event itself, that there would be a 7.9-magnitude earthquake, in a specific spot, and that town prepares for a drill based on said event. On the day, within 3 minutes of the drill start time, a real 7.9-magnitude (downgraded, as I mentioned before) happens? Why aren't the entire powers of the mainstream media reporting on this?
Interesting stuff, that's for sure.
Thanks to some friends of mine (in person, and on Facebook) for reminding me to post this news up.
Related Tags