Want a GEFORCE GTX 680? Newegg will hook you up
Newegg start selling Kepler-based GEFORCE GTX 680's.

Published Wed, Mar 21 2012 9:39 PM CDT
|
Updated Tue, Nov 3 2020 12:29 PM CST
We've had quite the eventful pre-launch news nuggets for the upcoming 28nm Kepler-named GEFORCE GTX 680 GPUs, but this is a totally new step in a very good direction: Newegg are the latest to jump the gun and offer the new GEFORCE GTX 680 GPU's for sale.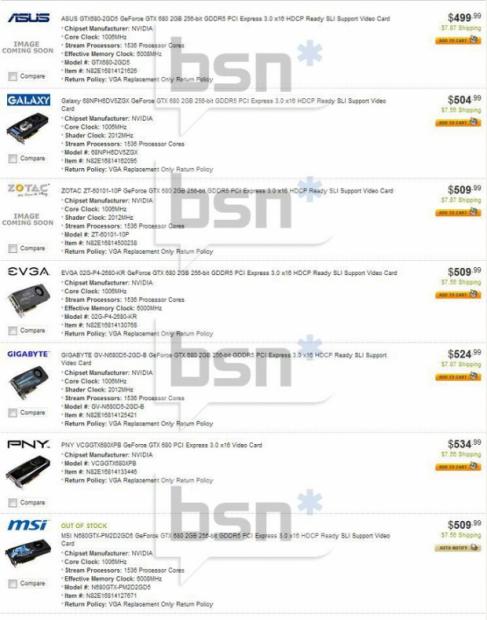 The cards are on sale for anywhere between $499.99 and $534.99, they have ASUS, GALAXY, ZOTAC, EVGA, GIGABYTE, PNY, and MSI cards listed. Availability is of course going to sink like hell on this as this news starts spreading, as everyone will be flocking to Newegg to hit up some of that Kepler lovin'. Get in quick, and remember to send me three of them, ok? The interesting thing I found is, when I've searched for them - they're gone. So it looks like Newegg have pulled them from the site - so I would keep your eyes peeled on this one, folks! They should pop up any second/hour/day now!
To throw in some extra awesome sauce on this news, we also have vice president of NVIDIA, Ujesh Desai presenting the GEFORCE GTX 680, in the video below:
Related Tags