'Draw Something' developer, OMGPOP, gets acquired by Zynga for $210 million
'Draw Something' developer OMGPOP gets acquired by Zynga, slides over cheque for $210 million.

Published Wed, Mar 21 2012 8:27 PM CDT
|
Updated Tue, Nov 3 2020 12:29 PM CST
OK. I admit it: since I purchased the new iPad, I've been obsessed about 'Draw Something', the Pictionary-like drawing game which is just insanely addictive. Most of the people around me, family and friends, have been playing it too, which makes it great. Today I wake up to the news that the maker of Draw Something, OMGPOP, has been acquired by social gaming powerhouse Zynga.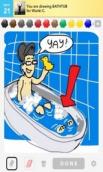 What price did Zynga draw on Draw Something's cheque? A very cool $210 million. TechCrunch has heard they were offered $180 million upfront, plus a $30 million earnout. OMGPOP chief executive, Dan Porter, now becomes a general manager and vice president of Zynga New York, with OMGPOP's employees joining Zynga. OMGPOP had not hit great success with titles up until Draw Something, when they bought the game to iOS and Android just over a month ago, they saw the title explode: racking up 35 million downloads, and 1 billion drawings.
It has also been reported that OMGPOP could have been worth more... a lot more. Simon Khalaf, the chief executive of mobile analytics company Flurry, said to TechCrunch's Kim-Mai Cutler, as well a Business Insider's Henry Blodget that OMGPOP effectively left $800 million on the tablet by selling to Zynga. The reason behind this is that Draw Something could've branched out into different areas, the same way that Rovio took the Angry Birds franchise and made it flourish.
You know what? I would've sold for $210 million. The market is unstable as it is, one poke of the bubble and it could all be over. I'd rather take a guaranteed $210 million than another game coming along similar, but better, and then your $210 million valuation goes to dust, and you're worth nothing overnight. Good move, OMGPOP. Oh, by the way, add me to Draw Something by adding me on Facebook. Let's draw.
Related Tags