You may have already seen the first video from our ASRock HQ visit today that checked out their full range of Intel Z77 Express Ivy Bridge boards and now we have two boards based around the Socket 2011 X79 chipset which deserve your attention, and here's why.
Let's start off with the Fatal1ty X79 Champion which as you may have guessed is a high-end gaming motherboard. You could probably consider this an X79 motherboard refresh from ASRock as it gets some nifty features such as the inclusion of the Creative Sound Core3D audio processor which includes "Scout Mode" that allows you to get a better idea of where your enemy is, probably with better audio positioning support compared to other cheaper audio codecs. it also comes with other high-end gaming features such as quad-SLI support.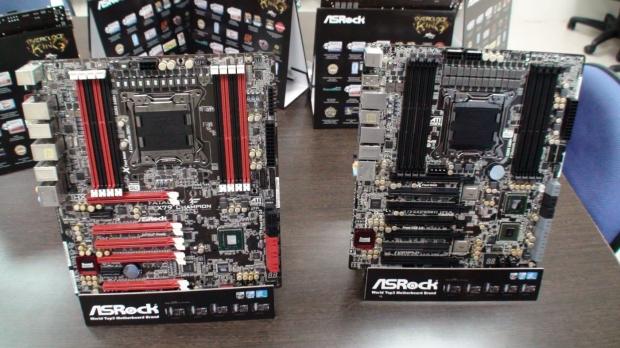 And next up we have the ASRock X79 Extreme11 which really got out attention, nothing against the Fatal1ty board, but this one is really one to pay attention to for the following reasons. This is one of the biggest motherboards ASRock has produced and it comes totally packed with features. Let's start off with storage - it comes with no less than 14 onboard SATA 3.0 ports and eight of those SATA 3.0 ports are actually SAS 3.0 ports for more critical storage requirements. SAS is powered by the LSI SAS2308 controller and while SAS on server-grade motherboards may not be a new thing, on a desktop motherboard is totally a new thing and really cool.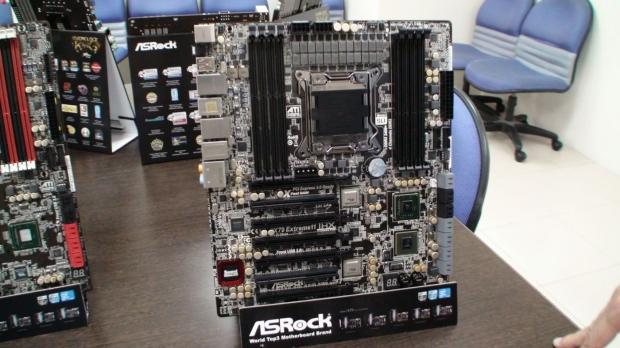 In addition to that ASRock packed on not one, but two PCI Express 3.0 PLX bridges to provide the Extreme11 with an insane amount of bandwidth for pretty much anything a desktop user could throw at it. You have support for AMD CrossFireX and NVIDIA quad-SLI, but get this, it's the first board that we know of that supports four-way graphics which each slot running at 16x electronically. Some may argue that you cannot see the performance difference between 16x and 8x, but on a board like this one, that's beside the point. It's going to be expensive (like a Ferrari, as Chris from ASRock said), and if you want the best of the best, you put the Extreme11 into your list of candidates - that's for sure.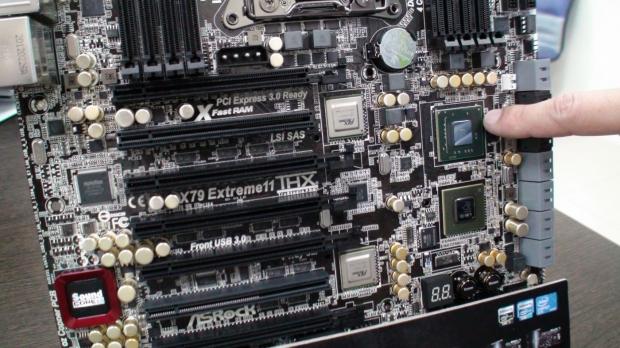 It's also has some other trimmings such as Creative Sound Core3D audio processing, USB 3.0, front-panel USB 3.0 support as well as room to hold a massive amount of DDR3 memory. ASRock told us that this board should go on sale sometime in the middle of May. There is no word on pricing yet, but I wouldn't expect it to be cheap. We will be getting both of these new ASRock boards into our labs soon and really look forward to putting them through their paces.