Full video look at ASRock's range of Z77 Ivy Bridge motherboards
OMG, that's a truck load of boards! ASRock fully ready for Ivy Bridge.

Published Wed, Mar 21 2012 6:25 AM CDT
|
Updated Tue, Nov 3 2020 12:29 PM CST
Earlier on today we visited the ASRock headquarters here in Taipei where we were introduced to their range of Intel Z77 Express Ivy Bridge based motherboards. You know, the ones we have been covering lately over the past couple of days - with more coming!
ASRock literally had a large room filled with Ivy Bridge based motherboards with not just Z77 based products, but also H77, Q77, B75 and so on - the whole shebang. In our video above we have focused just on the boards our audience will be most interested in and knowing you guys, that is the more high-end boards in the new line-up from ASRock.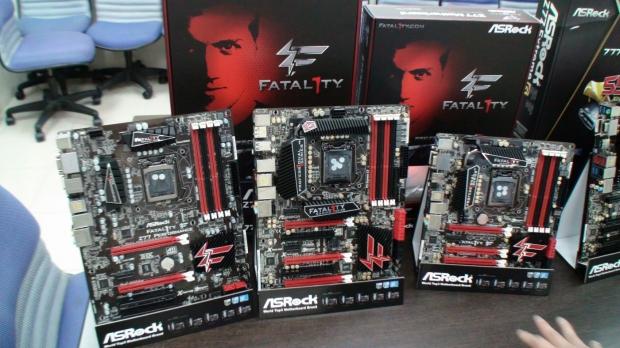 We are going to let the video above do the talking, but as an introduction to it we got a look at ASRock's gaming boards including the Fatal1ty Z77 Performance, Professional and Professional-M. What's probably most interesting for us is that the Professional-M is the first Micro-ATX based board from ASRock to get the Fatal1ty treatment. We can't wait to test it.
[img]2[/img]
Moving down the line of motherboard we run into the high-end Z77 Extreme series including the Extreme9, Extreme6 and Extreme4 and some others which cut down features as we go down the load and that obviously reduces the cost of the board for the consumer. Two other boards we got a look at including the Micro-ATX based Z77 Extreme4-M as well as the Mini-ITX based Z77E-ITX. We love these small motherboards as nowadays you can build rather impressive gaming machines in a really small case.
[img]3[/img]
We finish up with the Extreme9 which was hooked up to a power supply to show off its coolness. ASRock has gone to big efforts with the Extreme9 by adding in LEDs on the cooling heatsinks - the board looks great. But it's not just all about looks though, ASRock has also included an additional PCI Express 3.0 bridge which gives the board support for quad-SLI support with each PCI-E slot running at 8x electronically. If you are running two-way SLI, the slots will run at x16 electronically.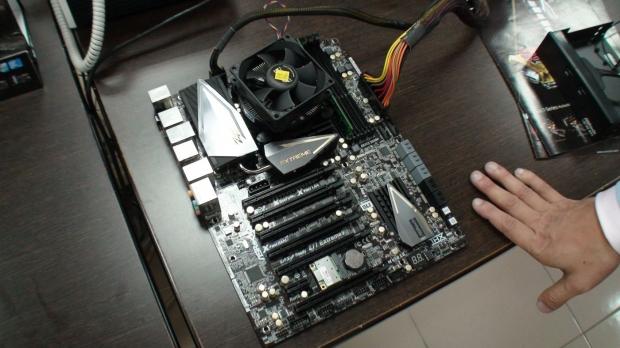 We almost cut Chris from ASRock off in the video before he got a chance to introduce us to its new ASRock WI-SB Box which will be bundled with the ASRock Z77 Extreme9 board. In the past ASRock has bundled a front-panel USB 3.0 box with its board to bring USB 3.0 to the front of cases which don't have it. This time around the box has been souped up to not only provided two USB 3.0 front-panel ports, but it also brings the Wi-Fi and Bluetooth antennas (included adapter comes installed on the board) to the front of the case and in ASRock testing they found that by moving this setup to the front of your case, wireless radio communications are improved hence providing better throughput and signal performance.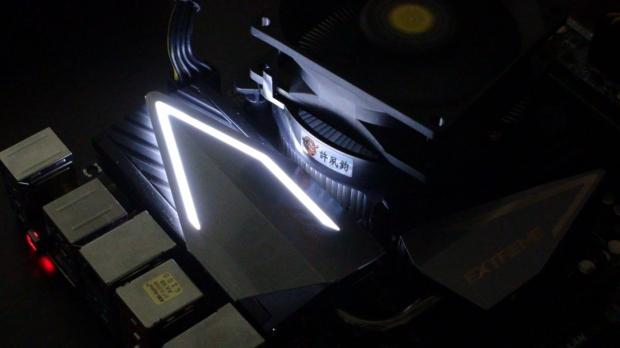 We have a whole range of ASRock Z77 boards in our labs right now with more on the way. We'll be posting the first of our ASRock Z77 reviews soon - stay tuned for them! And there are some more pictures in the gallery below.
Related Tags