MSI HD 7970 hits 1800 MHz Core, 7.70 GHz Memory
An MSI HD7970 was overclocked using liquid nitrogen to an incredible 1800MHz core clock and 7.7GHz m.
Published Tue, Mar 20 2012 5:33 PM CDT
|
Updated Tue, Nov 3 2020 12:29 PM CST
Today has been a video card news pot of gold. First we had the GTX 680 pictures, then the GTX 680 review, then the HD 7990 specifications, and now this. Swedish proverclocker Elmor managed this feat with a MSI R7970 Lightning card, which is a non-reference variant on the AMD HD 7970. So, for all of those people out there that thought MSI was making too big of a deal of its product design, maybe its time to think again. After all, look at what this card was capable of doing!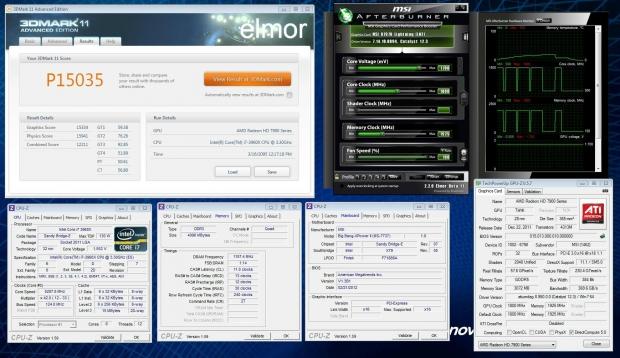 That picture isn't photoshopped. What you can see there is a MSI 7970 running with an 1800 MHz Core clock and with a 7.70 GHz Memory clock. It required 1.7v and liquid nitrogen to achieve. The massive clocks yielded a memory bandwidth of almost 370GB/s and a 3DMark 11 performance score of P15035. The rest of the test-bed consisted of an Intel Core i7-3960X Extreme Edition six-core chip clocked at 5207 MHz, with 4 GB (4x 1 GB) DDR3 memory clocked at 2314 MHz, and MSI Big Bang XPower II motherboard. Maybe AMD or its board partners can manage clocking it up to compete with the GTX 680.
Related Tags