Pre-crime detection system being trialled in U.S., Tom Cruise is not involved
Don't think about doing a crime, just your thoughts alone could one day be enough to prosecute you.

Published Mon, Mar 19 2012 1:24 AM CDT
|
Updated Tue, Nov 3 2020 12:29 PM CST
Minority Report fans, check in, please. The U.S. Department of Homeland Security has started up a new initiative, Future Attribute Screening Technology (FAST), where it aims to use sensor technology to detect cues "indicative of mal-intent", as defined by the DHS, as intent or desire to cause real harm, "rapidly, reliably, and remotely". They would use it to, "fight terror".
What is the FAST system capable of? Well, it has the features to monitor physiological and behavioral cues without contact. This means it is capable of capturing data such as your heart rate and steadiness of gaze of passengers that are about to board a plane. With said cues, FAST can then run through algorithms in real-time to compute the probability than an individual is planning to commit a crime.
According to the science journal, Nature, the first round of field tests for the program was completed at an "undisclosed location" in the northeast several months ago, where in lab tests, FAST reported a 70-percent accuracy rate. Not too damn bad for what would be a first-gen attempt/device.
There is one "improvement", if you want to call it that, where the system's sensors are now "culturally neutral", according to the DHS. This is said to help eliminate racial profiling which is allegedly allowed by the TSA screening process in American airports today. I think the difference here is that the actual people working for the TSA are the racist ones, where a 'system', 'program', or 'A.I', would not be. It would most likely be able to pull down all of the information on the person from retina scans at a distance.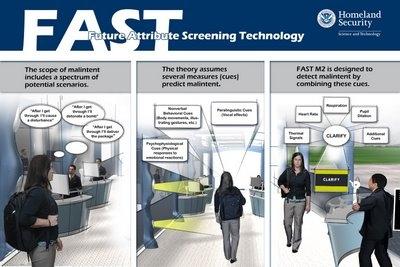 Pulls down the persons details, scans through e-mail history, Facebook history, GPS data, all in real-time all with perfect algorithms so by the time you've checked in, it knows everything about you. More than you'd know about yourself, in exquisite detail.
Related Tags