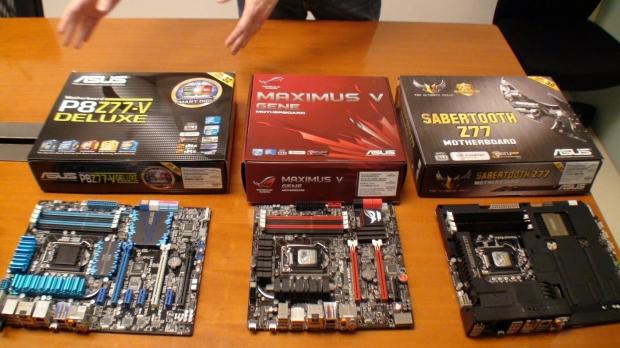 Intel Z77 coverage keeps on rolling in and this time we give you a look at three upcoming ASUS boards based on the upcoming Ivy Bridge chipset. Once again we were told not to say "Ivy Bridge" by ASUS, but surely by now you all know exactly what we are working with here, so we just decided to say it.
As you can see in the video above, ASUS has many bases covered with a full line-up of Z77 boards that support the third generation Core processors based on a 28nm architecture including ones for those who want it all, those who are into gaming (for small systems) and those who are interesting in impressive cooling performance.
We'll start off with the Sabertooth Z77 which is built for consumer workstation level performance. The big thing with this board is that it includes Thermal Armor which is an original ASUS invention to bring a new way to cool your motherboard. The cooling assembly is split into two cooling zones with one covering the northern part of the board and the other the southern part of the board. Two fans are included in the package with are optional to be installed - meaning, the board doesn't really active fan cooling, but if you add the fans in, ASUS measured up to a 10 degree Celsius drop in temperature on some areas of the board.
[img]2[/img]
There are also several drilled holes on the board which allow for improved air ventilation over previous generation Thermal Armor designs to help cool some of the back areas of the board. Additionally this time around the Thermal Armor has included plastic covers for the PCI Express expansion slots as well as memory DIMM slots to help protect the slots from dust and so on. It's also appealing to the eye to cover up more of the board to go with the Thermal Armor cover cooling assembly theme.
Then we move onto the Maximus V Gene (the Formula will come onto the market about one month after the Gene) which is part of the Republic of Gamers (ROG) series of course catered right to gamers who want to build a small yet powerful system based on this Micro-ATX motherboard. This board has been upgraded with Supreme FX audio which has a separate PCB divided by a nifty red line to clearly show that the audio section of the board is isolated from other signals on the board which helps to filter out things like power from other parts of the board which could affect audio performance. This board comes with other impressive features such as BIOS Flashback which allows you to flash the BIOS without components installed such as CPU and RAM.
[img]3[/img]
Also bundled in the package of the Gene is a mPCI-E combo card which plugs into the top part of the board above the I/O panel which allows installation of a mSATA SSD as well as any other mPCI-E cards such as wireless cards. The benefit of this solution on a Micro-ATX board is that by moving the mSATA connector off the board (so to speak), you don't sacrifice graphics performance by still maintaining two PCI-E x16 slots (which support dual slot cooled video cards) for two-way SLI and CrossFire. The other addition of the combo connector a the top of the board is that it is located in a cooler part of the board which should help reduce the temperature of connected products such as an SSD as compares to have the mSATA slot in a warmer area of the motherboard as we've seen on some other Z77 board designs.
And finally we cover the P8Z77-V Deluxe (Pro and Standard also coming in this range) which is more of a traditionally designed board which is packed to the roof with features. It's designed to pack in all of the ASUS features its users love while also catering for those who wish to get into some serious overclocking. How? It's got a truck load of power phases to keep things stable and under control when things get hot and heavy with tweaking. There are 16 + 4 CPU phases, two DRAM phases and an additional four for the chipset along with digital power control for the CPU and RAM areas.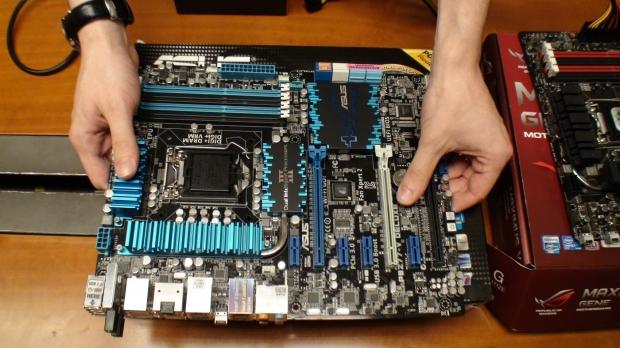 This board also supports three-way SLI and CrossFireX and it also gets some other tasty features such as SSD Caching, Fan Xpert 2, USB 3.0 Boost, PCI Express 3.0 support, built-in wireless and Bluetooth and much more.
We will have full reviews of all of these boards on TweakTown soon, for now I hope you enjoyed this video. There are a stack of photos of these Z77 boards in the gallery below, too. We do have one other ASUS Z77 board to cover on video and that is coming up next - stay tuned!