NVIDIA charts: GEFORCE GTX 680 is up to 40% faster than Radeon HD 7970
NVIDIA GEFORCE GTX 680, according to NVIDIA, is up to 40% faster than AMD's Radeon HD 7970.

Published Thu, Mar 15 2012 4:29 AM CDT
|
Updated Tue, Nov 3 2020 12:29 PM CST
Ah, NVIDIA charts. The memories are flooding back now, it feels like so long since I've seen them, but they're back, and in force. NVIDIA's latest charts are for their 28nm-built, Kepler-based NVIDIA GEFORCE GTX 680, caps intended.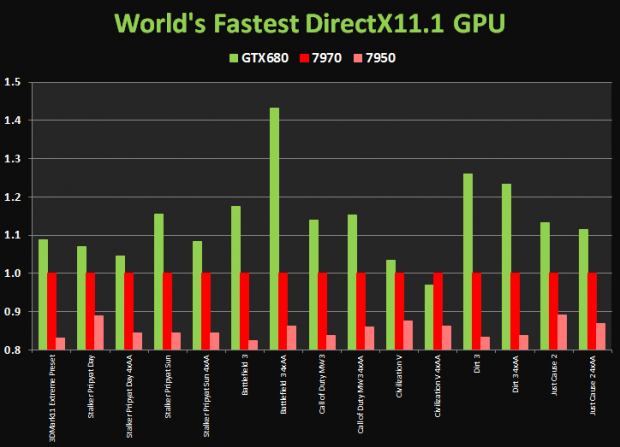 If the above charts are true, which most of the time they are not because it's really just a closed-world internal test by NVIDIA themselves, then we're looking at an amazing 40-percent increase over the AMD Radeon HD 7970 in some tests. 15 tests were used, from 7 games/benchmarks. All benchmarks were run with AA, then again without AA.
The one test that got my GPU juices flowing was the Battlefield 3 test with 4xAA, look at those improvements. If only I had the time to play Battlefield 3, I'd probably get 1 or 3 of these new GEFORCE GTX 680's. In the end, it looks as though that crown AMD have graced on their head, is about to get a can of whoop ass thrown at it. Green Team, unite!
Related Tags