Apple's just-released iTunes 10.6 sports the ability for users to option higher quality audio conversion bitrates when syncing songs to iOS-based devices like the iPhone, iPad and iPod. Before iTunes 10.6, users were given the option to down-convert higher bitrate songs to a crappy 128kbps level.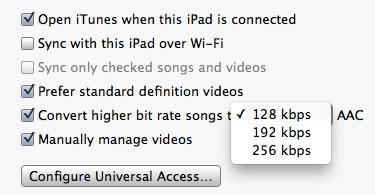 This allowed more songs to be synced to devices, but some users would rather higher quality audio, than savings to their device's storage capacity. With iTunes 10.6, users now have two options: to down-convert audio to quality levels of 192, or 256kbps, giving users three options of bitrate when syncing music to their mobile device.
iTunes purchases are encoded at 256kbps, but CD rips are at 320kbps, this means that the new setting allows people the option to reduce the quality slightly down to 256kbps when syncing to a mobile device, whilst keeping the higher quality 320kbps rip stored on their main desktop or notebook.
Download iTunes 10.6 here.