New iPad estimated to cost $310 to build
Apple estimated to spend $310 on BOM (bill of materials) for the new iPad.

Published Sun, Mar 11 2012 8:28 PM CDT
|
Updated Tue, Nov 3 2020 12:29 PM CST
If the current estimated BOM (bill of materials) from UBM TechInsights is anything to go by, we're looking at Apple cutting their profit margins ever-so-slightly for the new iPad when compared to the previous two models.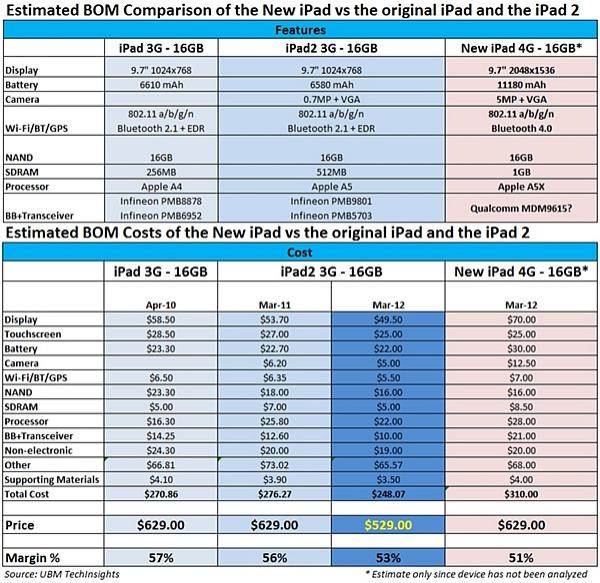 UBM TechInsights estimate shows a BOM of $310 for the new iPad - the 4G LTE 16GB model. The retail pricing on this model is $629, which gives Apple a very nice margin of 51-percent. Compared to previous models, this is down 6-percent or so.
The firm does note that a proper teardown is required to get their numbers more refined, but preliminary estimates typically match more accurate teardowns to within just a few dollars. More precise number should be available by the end of the week when the new iPad ships.
The first iPad had a margin of 57-percent, the second with a margin of 56-percent, so if the third launches with its estimated 51-percent margin, it is still great. Considering it has a more expensive display, estimated at $70 per device, compared to the iPad 2's $49.50 display, this represents a great profit margin for Apple.
Another expensive component is the new battery, the iPad 2 had a 6580mAh battery, where the new iPad rocks an 11,180mAh battery. This ends up costing $22 and $30 for the iPad 2 and new iPad, respectively.
Related Tags