iOS 5.1 brings 4G support to the iPhone 4S, in a trolltastic kinda way
Want 4G LTE on your iPhone 4S? Download iOS 5.1 and you can, well, kind of.

Published Wed, Mar 7 2012 7:34 PM CST
|
Updated Tue, Nov 3 2020 12:29 PM CST
iPhone 4S owner longing for some super-speedy 4G LTE action? Well, you're in luck, in a way! With the "new iPad" announcement, came the iOS 5.1 software update, with some people already installing it and finding some nuggets of info within the update.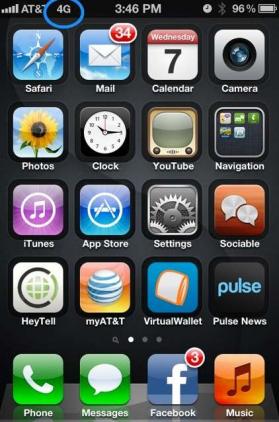 For those with the iPhone 4S, you can download iOS 5.1 which gives you 4G LTE, kinda. The iOS 5.1 software update adds the capability to display a 4G logo, where the 3G logo usually sits. But, it doesn't do anything other than look pretty.
It simply branding the current technology as 4G, even though it was 3G yesterday. Are Apple trolling their customers, making them think updating to iOS 5.1 automagically transforms their just-yesterday-this-was-3G to omfg-I-have-4G! No, no it doesn't. You still have 3G, and I have no idea why this is showing up. At the moment, its only AT&T that shows this, it doesn't show up in other firmwares, according to Jailbreak Nation.
Thanks to my mate Daniel for pointing this news out to me!
Related Tags