Corsair have just released a new range of SSD series today, the Accelerator. The drive is aimed for caching purposes, and even comes bundled with NVELO's DataPlex caching software. Corsair had shown off the Accelerator series at CES 2012, but the drive has not been made available until today.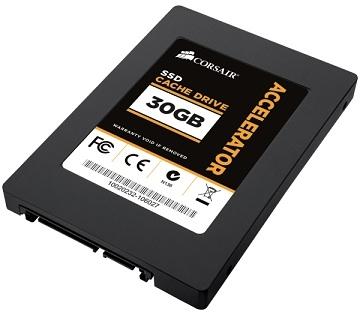 The Corsair Accelerator series is available in three sizes: 30, 45 and 60GB. The drive doesn't need to be super-large, as its only used as a cache drive, so it only stores the most frequently accessed data. Caching is aimed toward average users as utilizing two separate drives can be a bit hard for the novice user, whereas advanced users want total control over their data.
Keeping the price of the drive down is important, as it will attract more buyers, especially those who don't yet own an SSD drive. The new drive sports a SATA 3Gbps interface, which Corsair chose to keep the price down. The drives come in two different specs, with two different controllers between the 30GB (SandForce SF-2141 controller) and the 45/60GB drives with the SandForce SF-2181 controllers.
The only difference between these two controllers is the SF-2181 supports up to 8 channels, where the SF-2141 is limited to jut 4 channels.