GDC 2012: The first news off the startling line of this years Game Developers Conference (GDC) is news from Razer, which is very interesting indeed. Razer and Sixense Entertainment have just announced that they have full integrated motion gaming support now built for Valve's most popular titles: Half-Life 2, Left 4 Dead 2, and Team Fortress 2.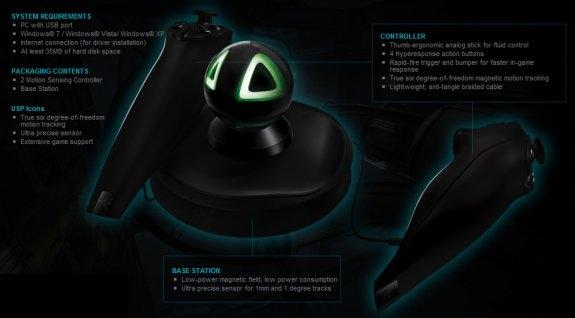 Not only that, but future Valve-made games such as Dota 2 and Counter-Strike: Global Offensive will support full motion play with Razer Hydra. The news does continue to get better, though. Sixense and Valve have also integrated Sixense MotionCreator 2.0 software into Valve's Steam gaming platform. This does something quite special indeed: it enables backwards compatibility for motion gaming with the Razer Hydra controller to over 250 of the most popular titles on Steam!
From now on, Steam users will receive automatic motion control updates for current, and future games, as well as a new in-game overlay which lets gamers view control maps for the Hydra controller, as they play. CEO and Co-Founder of Sixense, Amir Rubin, says:
Sixense is excited to bring the Razer Hydra motion gaming experience to the Steam community. By wrapping Sixense MotionCreator inside Steam, the PC and Mac gaming platform of choice for both gamers and developers, we are able to provide plug-and-play functionality for the Razer Hydra to showcase our innovative motion gaming modes across game genres.
You know what? This gels very, very well with the news of a potential Steam Box, or GabeCube, that could see the light of day this year. Hydra would work wonders in front of a TV... and so would a Steam Box. Interesting, isn't it?