Box goes all-in with Android, offers 50GB of free storage
Box joins up with Google, updates their Android app, and now offers 50GB of free storage.

Published Thu, Feb 23 2012 7:29 PM CST
|
Updated Tue, Nov 3 2020 12:29 PM CST
Cloud-based storage company, Box, has just updated their Android app and have baked in a bunch of new features. In order to celebrate this new start, Box are giving away 50GB of free storage to any Android-based user who logs into their service in the next 30 days.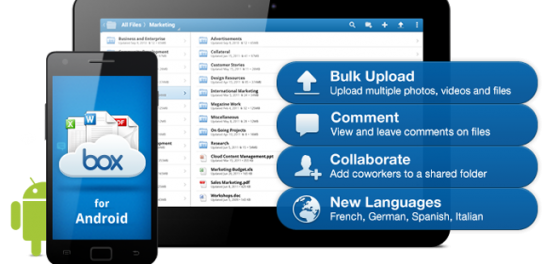 Box's new Android update introduces an overhauled user interface, new features, and includes compatibility for Google's latest OS, Ice Cream Sandwich. Box worked with Google to help redesign the UI with ICS in mind, and even users of previous Android-based OS's will benefit from. New features include the ability to comment on files, add teammates to individual folders, and batch uploads for uploading multiple files at once.
Box are also adding new support for languages, with French, Italian, German, and Spanish being added to the Android app. On top of the free 50GB of storage, Box are also giving away 20 Samsung Android-based tablets to a single company who can compellingly explain how it plans to use Box to improve its daily routines. Two runners-up in the contests will win a Samsung Galaxy Tab.
The new Box Android app is available right now in the Android Market, and will pop its head up shortly in the Amazon Appstore, Barnes & Noble Nook Store, LG World, and the Verizon Store.
Related Tags