ASRock have just unveiled a new X79-based motherboard, where they've partnered up with pro-gamer Johnathan "Fatal1ty" Wendel, who worked closely with ASRock engineers to develop a well-featured motherboard based on Intel's X79 chipset. Enter, ASRock/Fatal1ty X79 Professional. Fatal1ty is quoted: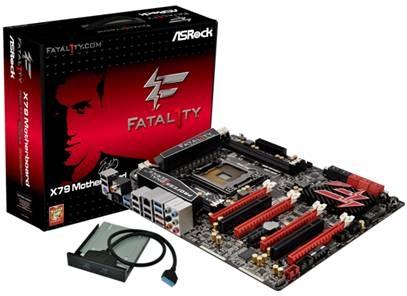 This Fatal1ty motherboard was designed to bring your gaming performance to the highest level. The Fatal1ty X79 Professional comes with a Fatal1ty Mouse Port that delivers the precise control needed to elevate your game. In addition to gaming functions, the board packs 4 PCIe 3.0 slots, supporting up to 4-Way SLI and 4-Way CrossFireX. This combination will make you deadly and feared in the battlefield.
James Lee, Vice President of ASRock Sales and Marketing chimes in with:
ASRock-Fatal1ty motherboards represent quality. This board is crammed full of features like XFast 555 and F-Stream. The blistering performance will satisfy users who require both overclocking and gaming needs.
ASRock and Fatal1ty have baked in some very cool featured such as "XFast 555 Technology". This technology is a three-part system, starting with XFast RAM, which helps boot times by creating a virtual disk from the system memory to boost system performance for applications such as Photoshop. It can perform up to 5X faster than standard. XFast LAN has the ability to lower latency in game after setting online game priority higher and drives up to 5X faster performance for gamers. Finally, XFast USB is the world's fastest USB transfer technology, providing again, up to 5X faster performance boost in USB data transfer speeds.
The board has 4-way SLI and 4-way CrossFire-X technology built in, in case you want to scale your system to accomodate high-end three-screen (or more) monitor systems, 3D Vision Surround systems, and more.