American Reunion Official Trailer #2 - you'd be surprised what you can do with a well placed thumb
American Reunion is nearly here, Jim and the crew are back.

Published Wed, Feb 22 2012 8:46 PM CST
|
Updated Tue, Nov 3 2020 12:29 PM CST
I was a teenager when the first American Pie movie came out, and it made me want to be growing up in America, going to their high schools. The movie was a smash hit and turned some of its stars into big-time Hollywood actors. The time has come for another sequel, which actually looks great.
In a weekend, the gang catch up and rekindle that bond they had from the summer of 1999 when they began their quest to lose their virginity. In the years since 1999, Jim and Michelle have married, and had a baby, while Vicky and Kevin have said goodbye. Oz and Heather grew apart, and Finch still has his heart set on Stifler's mom.
In American Reunion, all of the characters we've come to know and love reunite for their high-school reunion. The trailer looks great, and seems to be more down-to-earth with its characters, but still includes all the jokes we've come to know from American Pie. The last line of the movie has Jim's Dad say "you'd be surprised what you can do with a well-placed thumb", which is just a perfect line from his character.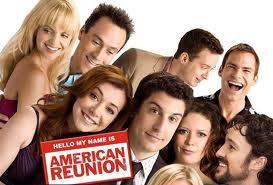 Related Tags