VIA shows us its USB 3.0 Active Optical Cable for cabling length of around 100 meters
Uses fiber optics instead of copper for much further length and better security.

Published Mon, Feb 20 2012 6:16 AM CST
|
Updated Tue, Nov 3 2020 12:29 PM CST
Earlier today we visited the VIA Labs at the VIA headquarters here in Taipei where we got a look at an upcoming product which we can only discuss later this week - stay tuned for that. However, what we can discuss today is something cool we saw in the development labs area of the VIA office and that has to do with USB 3.0 cabling.
Usually most copper wired USB 3.0 cables have a maximum length of around 3 meters and can fall prone to security issues since EMI is omitted and like tapping a phone line, if you knew enough about what you were doing, you could steal sensitive data from an unaware user. What VIA has done to massively increase the length of USB 3.0 cable is to develop its own style of USB 3.0 cable which uses fiber optic rather than copper wiring.
Besides the benefits of the added length and better security since fiber optic cabling does not omit EMI, USB 3.0 cable with fiber optics is far less lighter than copper based cabling and it is also much thinner, possibly allowing it to get into really tight areas where traditional and thicker USB 3.0 cable may not fit.
The actual USB 3.0 connector on the host end is about the same thickness s a regular USB 3.0 cable, just a little longer, as you can see in the shots below. This is because there is actually a very tiny chip inside the connector which allows for up to 10 Gbps with this TRX IC.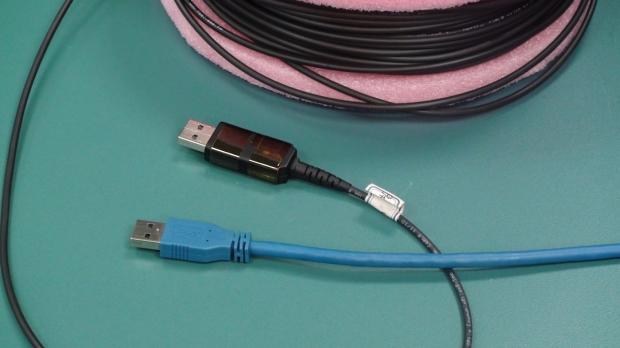 If you are looking at getting your hands on these cables, you are going to be out of luck for a bit. They are expensive and at this stage VIA is really only targeting the enterprise markets as well as governments with this product. That's not to say we might see consumer brands pick it up in the future, it just won't be for sale at the moment.
Related Tags