Intel Engineering Samples, back in my Celeron 300A days, those things were the thing to have. You were pretty hectic to own one of those bad boys and these days, with the likes of eBay's and mainstream (and more accepted) overclocking, it's not as cool, but it still gets my nerd juices flowing.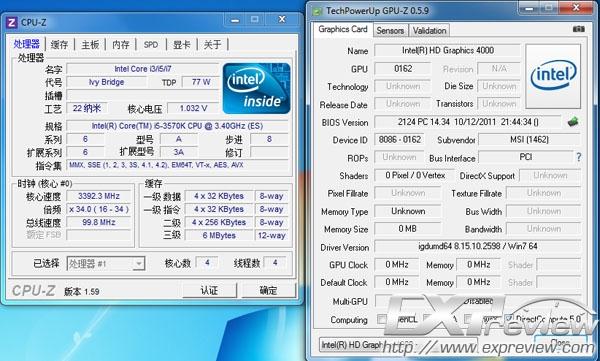 The latest ES sample comes in the form of Intel's Ivy Bridge-based Core i5-3570K. Henry posted two CPU pictures on the Expreview forums, where we can see the Core i5-3570K is pretty similar to the Core i5-2500K, but it's process has been shrunk to 22nm, clock speeds are up and TDP is down. We have clock speeds of 3.4GHz, and just a 77W TDP.
The IGP featured on the Core i5-3570K is Intel HD Graphics 4000, which is stamped into the K-series of processors, as well as some Ivy Bridge processors. HD Graphics reportedly sports 16 EUs, whereas the current HD Graphics 3000-series has 12 EUs.
Expreview's article on it goes into some incredible detail with some benchmarks with the 4000-series vs. the 3000-series, but an overall test featuring 3DMark Vantage, Left 4 Dead 2, Street Fighter IV, Starcraft 2, DiRT 3 and Far Cry 2 see the 4000-series come out on top to the tune of 67.25-percent faster. This is not bad, not bad at all, considering it's integrated graphics.