Samsung have avoided more lawsuits when it comes to their Galaxy Tab 7.0 Plus N, where it has now launched in Germany on Tuesday, albeit, quietly. The changes in the new tablet are the telltale top and bottom borders that German courts have allowed for release, as they aren't "copying" Apple's "technology".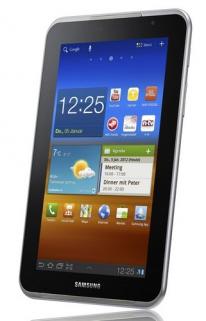 The new Tab 7.0 Plus N 16GB Wi-Fi version is quite expensive, rolling in at 499 euros ($656) with tax, as well as it's 3G brother at 569 euros ($748) with HSPA+ inside. The new 7-inch Galaxy Tab's are the first Samsung 7-inch tablets to arrive in Germany since the original Galaxy Tab launched nearly 18 months ago now. Samsung did unveil the Galaxy Tab 7.7 in Germany, but were forced to rip it away from the IFA floor because Apple objected to the similarity before it had even had time to hit retail shelves.
Samsung's designs sold everywhere else, bar Germany, until final verdicts in relevant trials. Apple successfully argued that the all-black, all-flat front design was too close to design rights for the iPad, and needed to change.
That last part I find ridiculous, how many all-black, all-flat tablets are there on the market? It's like Apple only see Samsung tablets and nothing else on the market.