Anonymous have had an eventful 2012 thus far, with news today that they've intercepted and recorded a conference call that took place between the FBI and the British police cybercrime division of Scotland Yard on January 17.
Anonymous have now released an audio recording of the nearly 15 minutes of conversation online. During the call, the two parties discussed something quite important, a hacker plot called "Project Mayhem". What is Project Mayhem you ask? Well, it's only a strategy for bringing down Anonymous, you can now understand why this is of importance for Anonymous.
The two parties specifically talk about back arrests of members known as "Kayla" and "Tee-flow", as well as getting Ryan Cleary's indecent images which were found by the USAF who examined his hard drive and 15-year-old "Tehwongz" who has claimed to of hacked 32,000 Steam user names, logins and credit card details.
How did Anonymous get access to the call? One would think the FBI and Scotland Yard would use some form of next-gen secure call technology? Nah, why would the FBI want to do that? Anonymous gained access to the conference call by intercepting an e-mail that was from an FBI agent that was intended for international law enforcement agencies. The e-mail supposedly contained a phone number and password for accessing the call.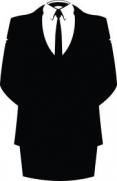 Really, FBI? You get a sensitive phone call accessed that easily? Or was this all just a setup? Or is it all just fluff news and Anonymous is an invisible arm of the U.S. Government, used as a puppet/boogie monster to start all of this crap? It is not making sense. I cover a bit of this type of stuff in my latest editorial, if you'd like to take a look.