A single tweet stops a couple from being allowed to enter the U.S.
Couple gets blocked from entering the U.S., over a single tweet that they would "destroy America", a.

Published Wed, Feb 1 2012 10:49 PM CST
|
Updated Tue, Nov 3 2020 12:29 PM CST
Twitter recently gave itself itself the power to censor particular tweets in particular countries, but this latest move tops them all. Two friends had planned a trip the the United States, as most people would dream of doing, with Leigh Van Bryan posting a tweet just weeks before his trip that he was going to "destroy America."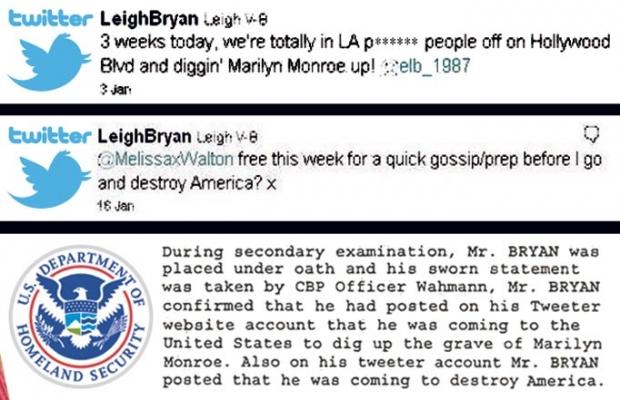 Now, a level-headed person would take that as someone who is excited about going to the U.S. with a friend, and is looking to have a great time. The U.S. didn't see it that way, and did not think it was said in a positive tone, where things escalated, quite a bit. Bryan and his friend, Emily Bunting, arrived at the Los Angeles International Airport, where they were questioned by U.S. special agents who had spotted their tweet.
They were questioned for over five hours, after which they were placed into an illegal immigrants van and were put behind bars, separately, for 12 hours. Bryan was questioned in regards to his tweet, where he jokingly said he would be "digging up Marilyn Monroe." The tweet where the U.S. believed Bryan was a "terrorist" was:
Free this week, for quick gossip/prep before I go and destroy America.
Emily on the other hand stated:
Officials told us we were not allowed into the country because of Leigh's tweets. We just wanted to have a good time on holiday. That was all Leigh meant in his tweets.
This is quite scary. I've said worse things about the U.S. (not in a "I'm going to destroy them", but more in a problem with their economy, laws, the constitution and how it has been raped and pillaged by corporations and in-their-pocket presidents) and I wonder if I were to arrive in the U.S., would I be arrested? Would you be considered a terrorist from what you've previously said on social networking sites?
Do you think it's a breach of privacy for the U.S. government to think that these two people were potential "terrorists" when they made some stupid comments? To me, if these U.S. special agents can be "informed" of these tweets, I expect no further attacks from any form of terrorist on U.S. soil. If social networks are monitored to this state, I expect absolutely no more attacks, forever. Not just a limited time, but all network traffic is monitored, we all either suspect this, or know it.
This is just another thing that the U.S. has gone over the top on.
Your thoughts?
Related Tags