AMD's Radeon HD 7000 series roadmap leaks, HD 7990 set to take the stage
AMD's 2012 roadmap for their HD 7000 series has been leaked, expect the king to return in the form o.

Published Tue, Jan 31 2012 10:11 PM CST
|
Updated Tue, Nov 3 2020 12:29 PM CST
Nearly twelve months ago, I wrote a news piece about the launch of AMD's Radeon HD 6990 where I said it "punches all other GPU's in the nuts", and it seemed to be a catchy title, that just spilled out of my mind, into my hands, and onto the screen. A lot of what I type happens this way, I guess it's just my hektik writing skillz, maybe.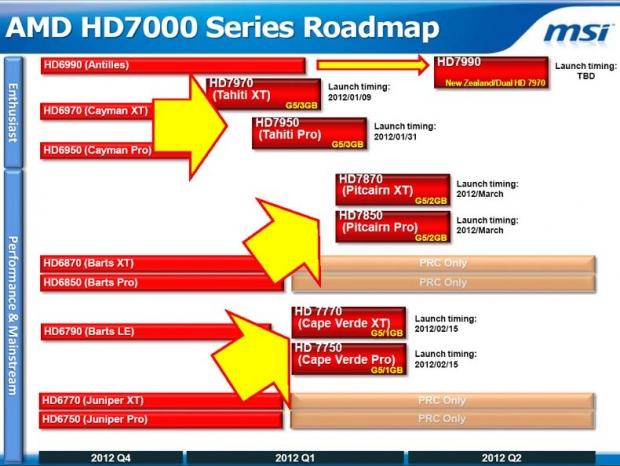 Anyway, a leaked roadmap for AMD's Radeon HD 7000 series has found its way onto the tubes, and it unveils the Q2 2012 launch of AMD's dual-GPU HD 7990, which will most likely kick every other GPU in the nuts this time. Exact launch timing, is "TBD", but there are some other tid bits included in the roadmap.
We should expect the HD 7870 "Pitcairn XT" to sport 2GB of RAM, and the HD 7850 "Pitcairn Pro" to also sport 2GB of RAM. Launch timing on these two GPUs are an expected March launch, which isn't too far away. Next up we have the HD 7770 "Cape Verde XT" and HD 7750 "Cape Verde Pro", both sporting 1GB of memory and have launch times of just two weeks from now on the 15th of February.
So, ladies, if you want to buy your man a great-value GPU for Valentine's Day, you know what to look out for. Vica Versa if you're dating/married to a gaming gal.
The HD 7990 "New Zealand" dual-GPU should be the one to look for. This should be the card that will have NVIDIA crapping green poo before the launch of their Kepler-based 28nm GPUs.
Related Tags