Amazon makes more than $100 per Kindle Fire sold
Amazon's Kindle Fire, even sold at a loss, still makes more than $100 per device sold for Amazon.

Published Thu, Jan 19 2012 11:23 PM CST
|
Updated Tue, Nov 3 2020 12:29 PM CST
Amazon lose money on each Kindle Fire sold, as hardware and manufacturing costs of the Kindle Fire exceed its retail pricing, but somehow, Amazon aren't losing money on it. How does Amazon conduct this sorcery? Well, with every Kindle sold is another annuity revenue stream for the company, further strengthening its core retail business.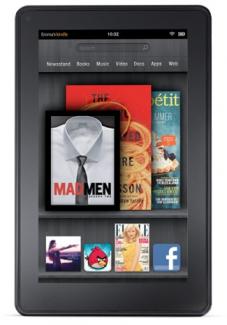 According to RBC, each Kindle Fire generates more than $100 in additional income, which makes up for the $2-$3 that Amazon make per device. RBC Capital analyst, Ross Sandler, said in research notes to clients:
Kindle Fire unit economics are likely to be more favorable than consensus expectations, based primarily on frequency of digital goods purchases. Our assumption is that Amazon could sell 3-4 million Kindle Fire units in Q4, and that those units are accretive to company-average operating margin within the first six months of ownership. Our analysis assigns a cumulative lifetime operating income per unit of $136, with a cumulative operating margin of over 20 percent.
Where are Kindle Fire owners spending this money? e-books. According to Sandler's survey, 80-percent of Fire owners have purchased e-books, and 58-percent of those bought more than three of them within the first 60 days of owning the Fire. Sandler concludes that the typical Kindle Fire owner will buy five e-books per quarter, generating roughly $15 net per quarter for Amazon.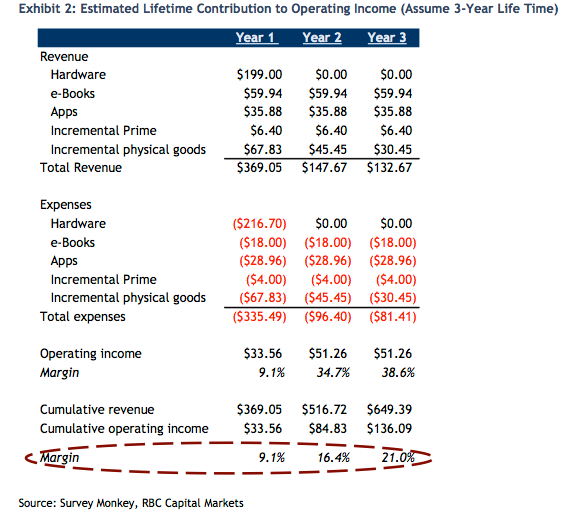 What makes up the remainder of that $136 number? Apps, two-thirds of Fire owners that Sandler had surveyed had purchased at least one app. 41-percent of those claimed to have purchased three, or more. Sandler also estimates that the typical Fire owner will purchase three apps per quarter, another $9 for Amazon.
Video-on-demand buys and incremental purchases of physical goods, is what make up the rest to reach $136.
Related Tags