Windows 8 requirements are quite interesting, more interesting are the details inside for "device requirements". If you want to check them out, here's the link. Better get a coffee, energy drink or similar because it's nearly 1000 pages long. Onto the good stuff!
Within Windows have covered the interesting requirements, where Microsoft have stated that there must be five hardware buttons on Windows 8 tablet/convertible PCs, as well as a minimum component set for tablets and convertible PCs.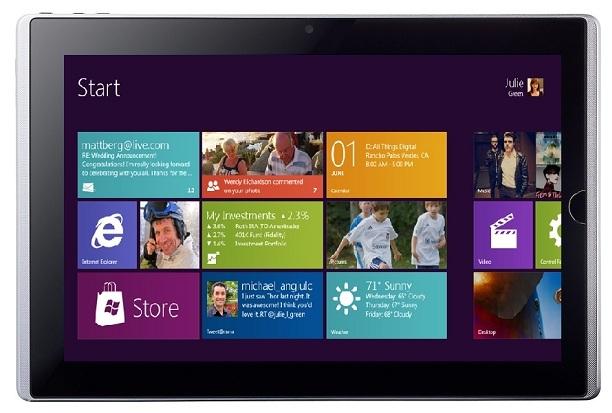 Microsoft requires '5-point digitizers', which is a minimum. This means it supports at least a hand of fingers on the screen at once. NFC "touch marks" are featured in Windows 8, where any tablet or slate must have a sticker of similar signage telling the user its NFC-capable. Microsoft also require that Windows 8 has the aforementioned 5 button minimum, with those buttons being Power, Rotation lock, Windows Key, Volume up, and Volume down.
There's a new button combo, too. Where Microsoft enforce that Windows 8 PCs joined to a domain and without keyboards implement a new Ctrl+Alt+Del sequence. The on-screen keyboard still remains as an option, but the quicker (and new) option is to press Windows Key + Power.
The minimum component set for tablets and convertible PCs is nice, with the absolute bare minimum being:
Storage: At least 10gb free space after the out-of-box experience completes
System firmware: UEFI
Networking: WLAN and Bluetooth 4.0 + LE (low energy)
Graphics: Direct3D 10 device w/ WDDM 1.2 driver
Resolution: 1366×768
Touch support: At least 5 touch points, must pass all tests
Camera: 720p
Ambient Light Sensor: 1-30k lux capable w/ dynamic range of 5-60K
Magnetometer
Accelerometer: 3 axes w/ data rates >= 50Hz
Gyroscope
USB 2.0: At least one controller and exposed port
Speakers
Although this is kind of support already, Windows 8 won't require reboots for driver updates. Microsoft require that Windows 8-based PCs support no-reboot upgrade of graphic card drivers. Finally, a 2 second resume for Intel-compatible, Windows 8 PCs. What about ARM-based PCs? It looks as though they escape this requirement. This could change before release, though.