Wikipedia will go offline in support of SOPA protest
Wikipedia will go offline on January 18 for SOPA protest.

Published Tue, Jan 17 2012 4:01 AM CST
|
Updated Tue, Nov 3 2020 12:30 PM CST
SOPA may have been stalled, but the fight is not over, yet. Wikipedia have announced that they are joining in on the Black Out protest which is scheduled for January 18, just mere hours away.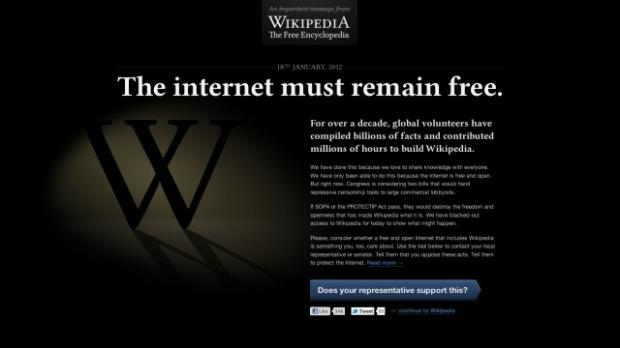 Wikipedia founder, Jimmy Wales, made the announcement through Twitter today, saying that Wikipedia will be unavailable for 24 hours beginning midnight EST of January 18 (4pm AEDT). Instead of Wiki entries, users will get to the site, and get redirected to a page with a banner saying "The Internet Must Remain Free".
Wikipedia is just one of a number of sites that will suspend operations on January 18, these sites include Minecraft, Reddit, Major League Gaming and the entire Cheezburger network. These black outs and protests are to raise awareness for SOPA and PIPE bills. Hopefully this begins to catapult SOPA and PIPA into the mainstream, and the House drops it. Let's hope they don't rename it, add some spice and throw it in with another bill without anyone knowing. It's not like they would be capable of doing that, again.
Related Tags