What's new for ARCTIC besides the dropping of "cooling" from their name?
Still doing cooling stuffs, but also new things.
Published Jan 14, 2012 7:22 AM CST
|
Updated Tue, Nov 3 2020 12:30 PM CST
1 minute & 32 seconds read time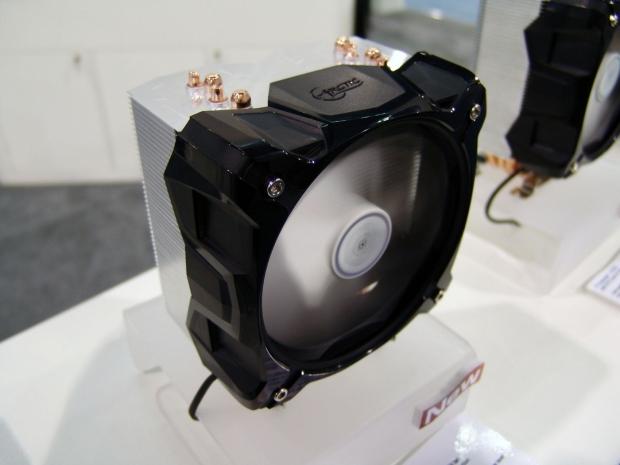 CES 2012 - I found ARCTIC on the floor at CES and found a few coolers on display. Here we have the i30 in this image. There is an a30 model for AMD mounting which is exactly the same as this i30 model sans the mounting hardware, of course that has to be different. This four pipe cooler was in full operational speed, and both were dead silent. I just spoke with Daniel while I was in Las Vegas, and was told this cooler is in transit right now, so expect this review very soon!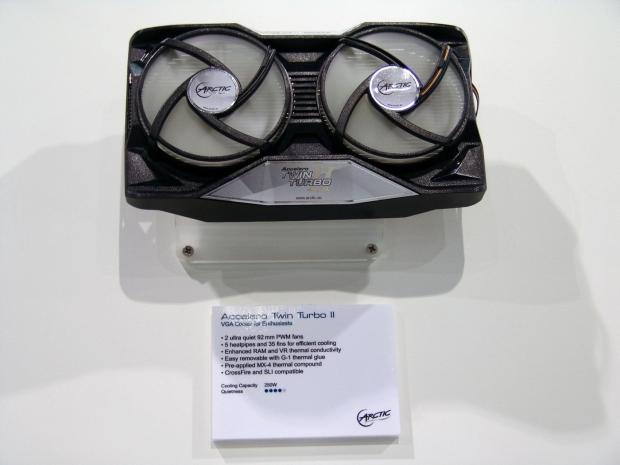 On the wall behind the CPU cooler display were the new series of GPU coolers. This is a redesign of the original Twin Turbo Cooler. The Twin Turbo II has a changed heat pipe arrangement under it, but since they were mounted to the display I couldn't get a great image of it. You can tell from the top that the fan spacing has been changed, the black shroud has been increased in size, and this cooler still connects to most of the older cards, as well as a few that the original did not.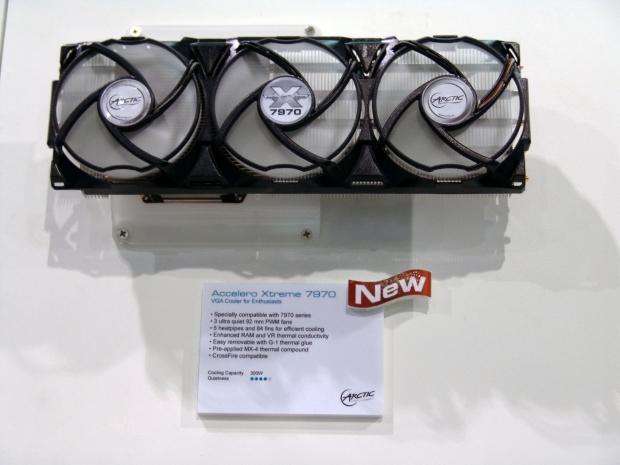 Next to the Twin Turbo II was mounted next to this new design as well. Here we have the Accelero Xtreme which is just like the one I reviewed previously, but this time is specifically designed to work with the AMD HD 7970. The main change to the cooler for this card is the addition of a few millimeters of extra copper to the base of the cooler to allow contact with the die height of these new cards.
ARCTIC is also getting into the HTPC game, but in a very "small" way. Here is the HD001 system which works with the main unit in the middle as a HD stream box, but also offers 4X Blu-ray built into the unit. The HD001 works with the remote, wireless keyboard, and wireless controllers seen in this image. This passive unit will offer silence along with compact convenience for you to use with your living or media room TV. This model will ship in both black and silver to match your needs, and I can't wait to get one to test it with my home theater and see how everything works!
Related Tags