Lenovo's IdeaPad Yoga 13 ultrabook, sports Ivy Bridge, Windows 8 and swivels its screen to turn into a tablet
Lenovo's IdeaPad Yoga 13 ultrabook, could this be the first one that makes people say 'wow!'?

Published Fri, Jan 13 2012 4:21 AM CST
|
Updated Tue, Nov 3 2020 12:30 PM CST
CES 2012: I'm trying not to get excited for Windows 8-based notebooks, or ultrabooks, until something comes out that makes me sit back and think "Wow". Well, I think I'm getting to that point with Lenovo's ultrabook, IdeaPad Yoga 13.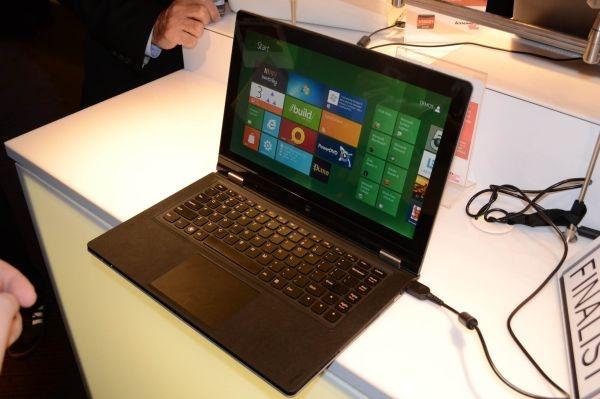 Intel requires that all 13.3-inch (or smaller) ultrabooks to be, at most, 18mm thick. However, there is a provision that if the ultrabook has a touchscreen, it can be up to 20mm thick. Lenovo's IdeaPad Yoga 13 sports a touchscreen, yet measures up at just 17mm thick. Yoga 13 does all of this without losing battery life, as Lenovo rates the Yoga good for over eight hours of use.
It doesn't just sport a touchscreen, it's an IPS panel to boot. The panel features very wide viewing angles that are perfect, as the Yoga's hinge allows the display to swing open 360-degrees and can convert itself into a tablet. Once the display spins beyond 180-degrees, the keyboard turns off and you can hold the unit and interact with it just like a tablet. Yoga 13 includes a soft-touch coating on the palm rest that ensures the system is easy to hold and won't slip or scratch if you place it on something in tablet mode.
Windows 8 won't be out until the end of the year, but early design thoughts from AnandTech say it looks extremely solid. The Yoga 13 will arrive with Ivy Bridge, and ships with a Samsung SSD. It goes a bit further by allowing the laptop to wake up the Wi-Fi interface and sync e-mail and Internet data, all while the laptop is getting some Zzz's. This could be the start of truly wonderful things for not just ultrabook's, but Windows 8, too.
Related Tags