Facebook had its first live theater performance on Monday, Effi Briest takes the social networking 'stage'
Effi Briest takes the stage, on Facebook.
Published Jan 13, 2012 12:25 AM CST
|
Updated Wed, Jul 27 2022 3:46 AM CDT
0 minutes & 51 seconds read time
Facebook has previously held presidential debates, Twitter has had live concerts, but now theater has taken the social networking stage. Berlin's Maxim Gorki Theater used Facebook to host a live theater experience on Monday, which is what they have called, Facebook's first performance.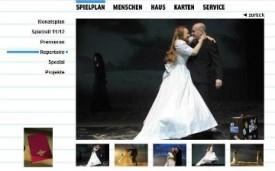 Maxim Gorki Theater used Theodor Fontane's Effi Briest, and performance a special adaption for the "online Facebook stage", reported Reuters. A spokesperson for the theater told Reuters:
We were really pleased to try something new and innovative, and have learned a lot about how we can use the internet for our productions. Facebook can't replace the stage, but it offers some really interesting opportunities to perform theatre online.
They really broke through with something new, by offering status updates, shared photos and wall posts between characters, all part of the interactive experience. During the show, audience members voted for their favorite wedding dress option and contributed to a love letter exchanged between characters. But, the audience were warned that Facebook chatter during the show was 'discouraged'. The performance narrator sent "silence in the theater, please," messages, kind of like a virtual dimming of the lights.
Nearly 1,200 people joined the Facebook group before stage admittance was closed, but many others may have watched online during the production.
Related Tags