ioSafe get all crazy trying to electrify media and new Thunderbolt drive with Tesla coil
ioSafe demo-lition 2012 and the Cage of Death.
Published
1 minute & 11 seconds read time
CES 2012 - This morning we ventured out to the Las Vegas Country Club where the folks over at ioSafe held one of their now famous CES demo-lition events. In previous years they've done things like take media to a shooting arrange to blast the hell out of their drives and have done other things like run over the drive with massive earth movers and such.
This year Robb Moore and his team at ioSafe decided to do something new and setup a "Cage of Death" with a near enough to one million volt Tesla coil operated by Telsa expert Doctor Megavolt. Media were put into a nearby cage at a fairly safe distance from the proceeding bolts of lightning and inside the main cage the brand new ioSafe Thunderbolt drive was put to the test to see how it could with standard an extreme amount of electricity coming right at the device.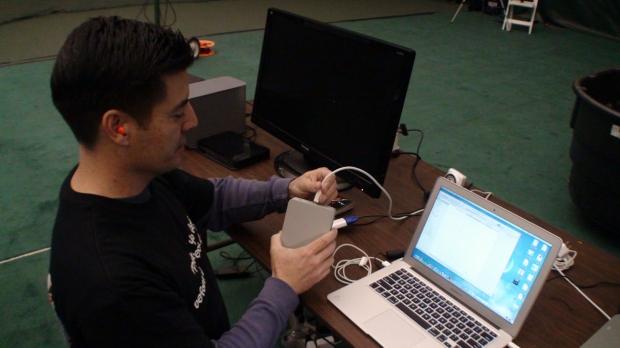 After the demo CEO Robb Moore of ioSafe reconnected the drive back to the system and it ended up working just fine. There were a few other little "magic tricks" during the show but we cannot reveal that at this stage since other media are still going to be attending the event tomorrow. The main message was that ioSafe is very serious about protecting your data and will go to big lengths to make that happen.
[img]2[/img]
This was a really cool demo, probably one of the best events I've attended as media. We were a little worried for our lives at the start as ioSafe had us sign waivers and such, but as I told Robb, I'm sure he wasn't going to put our lives at risk - I'd still like to see what the insurance bill was, though.
Related Tags