Dan McGrath met the Thermaltake Level 10 GT and got a bit Mayan with it!
Yep, case mods are back in Vegas.
Published
1 minute & 41 seconds read time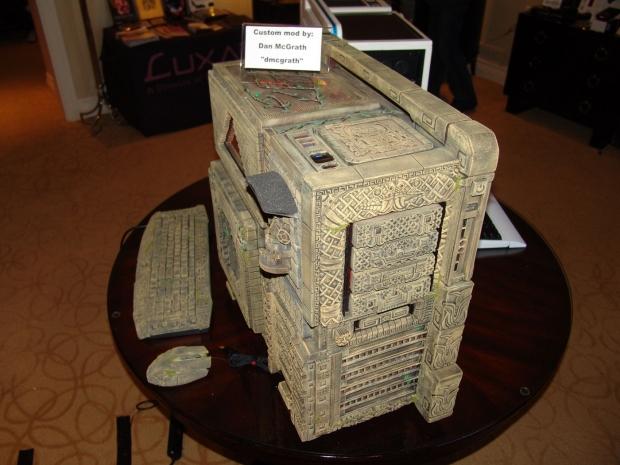 CES 2012 - As I walked the room with Shannon Robb at my side pointing out all the new goodies at the NZXT meeting I just had with them earlier today, I was led to this awesomely amazing customization of the Level 10 GT. I was told this has been a project that was in the works for over six months, and with use of something called Balsa foam, Dan delivers the most amazing Level 10 on the planet!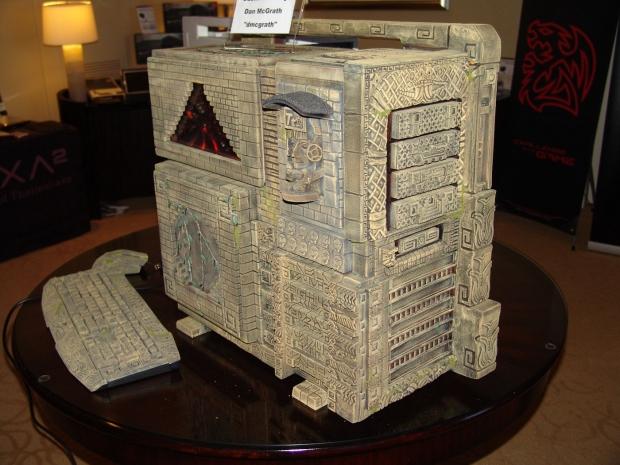 This is really the case mod that keeps on giving. Every bit was hand carves and offers details that you might miss at first glance, and you can actually sit here for hours looking at all the fine detail and leaving you to find all of the hidden treasures. For instance, there is the pyramid window which is more obvious, but things like the little god under the headphone rack, he is actually gripping an Xbox controller. Also on top of all the fine work done to the chassis, there is an artificial moss applied here and there to make the chassis appear as if it has been sitting out in the forest and was just discovered next to a Mayan temple.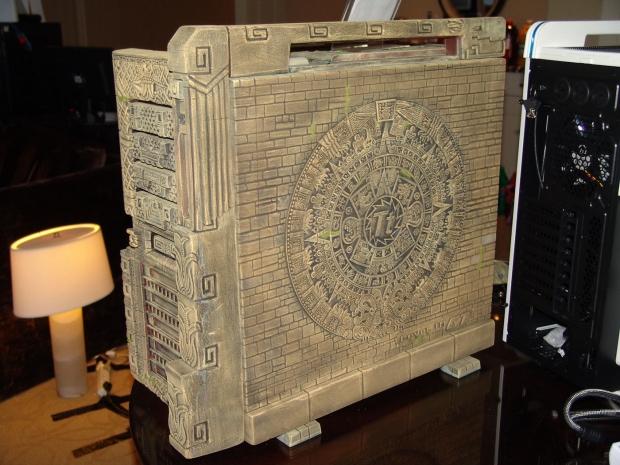 Even on the back of the chassis the brickwork is top notch and the Mayan calendar with the Tt logo in the center inspired me to ask the question is this chassis designed to self destruct on 12/21/12, but Shannon jokingly answered "no, but there is the coolest BSOD that will happen on that date." Of course he was just kidding, there is nothing really going to happen then!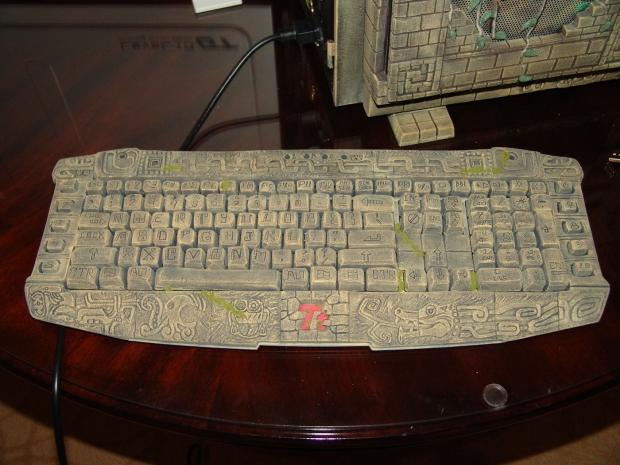 As if the chassis wasn't enough Dan also took one of their mice and keyboards and modded them to match. With use of the same foam, each key is not only custom made with varying height and feel as if it were constructed of stones, there is a very cool font used that delivers a complete and total mod package to the Level 10 GT and its peripherals.
For those of you who are not aware of Dan's work, feel free to Google "dmcgrath case mods" and hit the images button at the left and you can see this is not his first go at case modding, and up until today, I had always admired this man's work, but never realized , or put a name to those chassis. Great work Dan, and thanks to Thermaltake for showing me one of the coolest case mods I have ever seen in person!
Related Tags