Corsair 300R is big where it counts, and is small in the dent to your wallet!
Hands-on with the new budget case from Corsair.
Published
1 minute & 42 seconds read time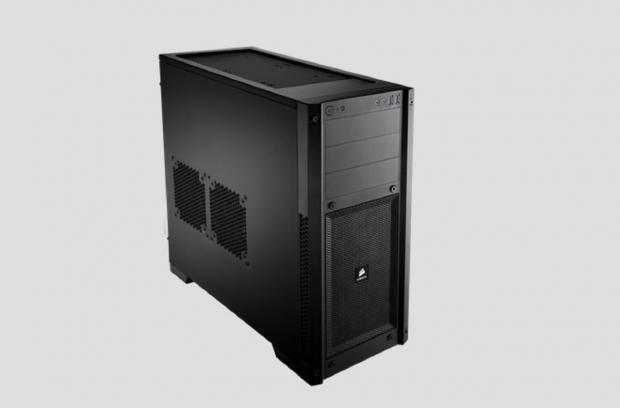 CES 2012 - Corsair plans to take the budget chassis segment by storm with the latest addition to the Carbide Series chassis with this new 300R. Corsair is launching the 30R at just less than $90, and is rumored at this point to possibly drop below the $79.99 price point if it is at all possible to do. That leaves us a chassis that stands on its own in aesthetics externally, but also is a new interior design to allow room for a large system for those who want to house a full ATX and multiple card setup, but don't want to spend $150 or more to get what they want.
Of course you can see the inside of the chassis here, but the main point I wanted to make was that even with the large mesh area at the bottom of the front bezel, there are also side ventilation slits cut into the sides of the bezel in the 300R to allow even more places to let the cooler ambient air onto the chassis to deliver a cooler interior while in use. Also both sides of the bezel are very pillar like and makes for an attractive yet very functional use of the front bezel.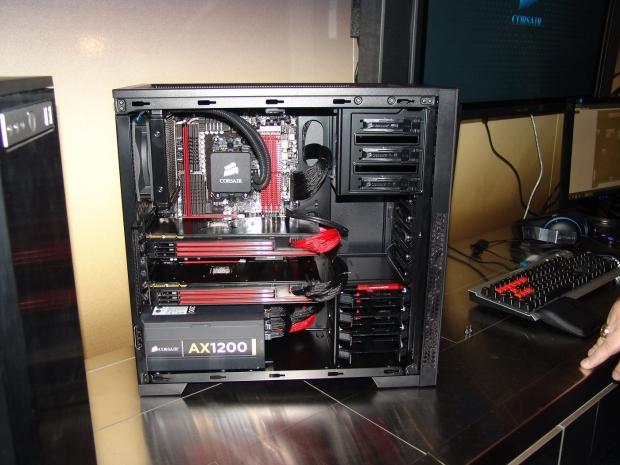 The tag line for this chassis from Corsair's description of the interior is "it's big where it counts." This means that while this is a mid tower solution, you will have all the room you need to get in larger video cards with the removal of the middle of the drive assembly. This chassis has only the trio of optical bays and the quartet of hard drive bays. The 300R is made to allow users the ease of room for cards without having to remove and store extra components. For most of us with gaming systems, we don't typically fill the front of the chassis, and Corsair noted this and is delivering a more basic layout to simplify and make the users experience on of ease and joy, versus frustration and an empty wallet.
Stay tuned to Tweaktown's review section in the near future. Last night when I took the images of the new solutions we weren't allowed to post these until the public release earlier today. This means that I will be shortly receiving the Carbide Series 300R, where I can then get into greater detail about all of the ins and outs of the chassis, and I really look forward to this review as well as the others I am said to be receiving very shortly!
Related Tags