BenQ launches XL2420T and XL2420TX gaming screens in North America
BenQ launches two gaming monitor in North America, XL2420T, XL2420TX.

Published Wed, Jan 11 2012 3:24 AM CST
|
Updated Tue, Nov 3 2020 12:30 PM CST
CES 2012: BenQ's two XL Series Gaming Monitors have been teased previously, but have now been announced to launch in North America at CES. The XL Series comes in a bunch of sizes, 17-, 19-, 21.5-, 22-, 23- and 24-inch, with pricing at of the XL2420T and XL2420TX at $549 and $649, respectively.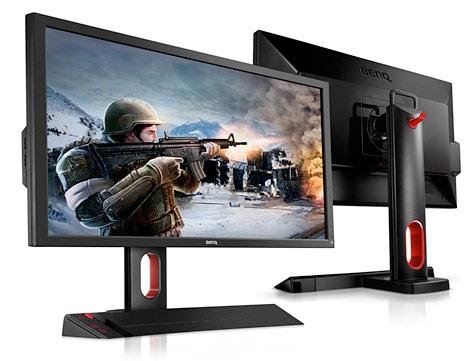 The XL2420T and XL2420TX were engineered in conjunction with ZOWIE GEAR, who are a manufacturer of high-end professional gaming gear and R&D partner to BenQ. President of BenQ America Corp., Lars Yoder, says:
The new XL Series models prove that 'gaming is in the details,' building on the technology of our popular XL2410T monitors, which were featured at huge gaming events such as DreamHack Summer 2011, Global Starcraft II League, and GamesCon 2011, ESEA. Offering a 120-Hz refresh rate, 2-ms GTG response time, and 12M:1 dynamic contrast ratio, the XL2420T and XL2420TX not only provide the fundamentals essential to mastering FPS gaming, but also possess exclusive features meticulously constructed to provide FPS gamers with the ultimate sense of ease and control.
I'm a huge fan of 120Hz screens, and can't wait to see more people with them. BenQ's screen take a side-step in terms of offering a difference between the Samsung, Alienware, and other 120Hz-based screens with preset "FPS Mode". This is tailored by professional gamers "HeatoN" and "SpawN", with FPS1 mode "configures and optimizes the display for Counter-Strike 1.6, and the FPS2 mode does likewise for Counter-Strike Source, as recommended by BenQ. With these specialized preset modes offering optimal brightness, contrast, sharpness, and color tint, gamers gain the advantage of being able to spot and track their opponents' every move, even in indistinct situations."
If you're into 3D, and want to see some of NVIDIA's 3D Vision 2 technology, you might want to check out the XL2420T. If you want the full package, which includes an embedded 3D IR emitter and 3D Vision 2 Glasses Kit, tap some of that sweet XL2420TX action.
Related Tags